High Quality Meat at a Reasonable Price "Tokyo Yakiniku Eight Kiba Main Branch"
Published: November 1, 2023
※Prices are subject to change from those in effect at the time of the interview. Please contact the store directly for the latest information.
With family in mind, this shop wants people of all ages to enjoy their wide range of food items at a reasonable price.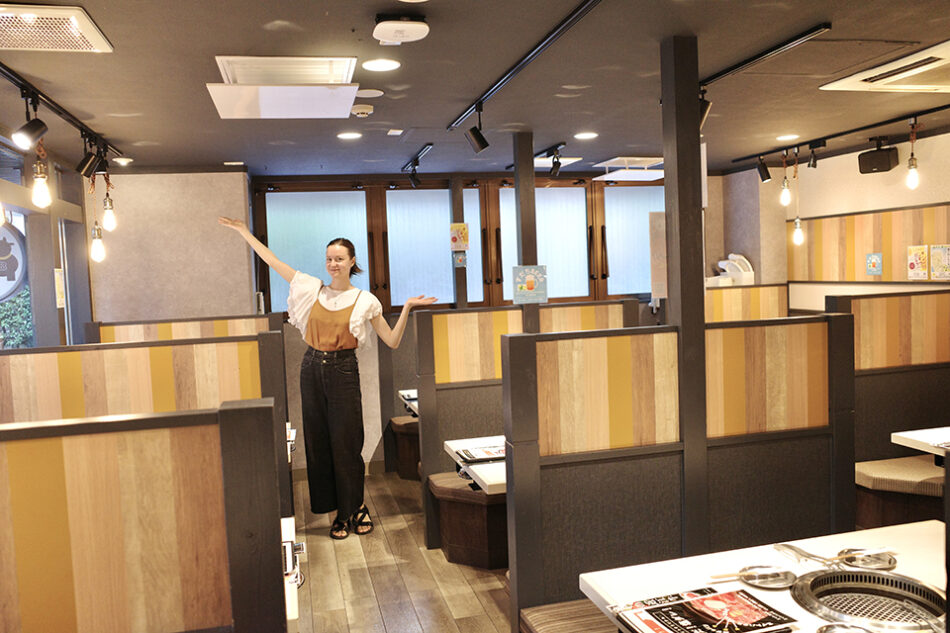 A very spacious interior with 65 seats in total
The shop is still quite new, so the interior looks very modern and up to date. The simplicity of the interior is calming, with a nice balance of modern and natural colors and textures. The lighting is very pleasant too. The large storefront windows add to the stylish interior.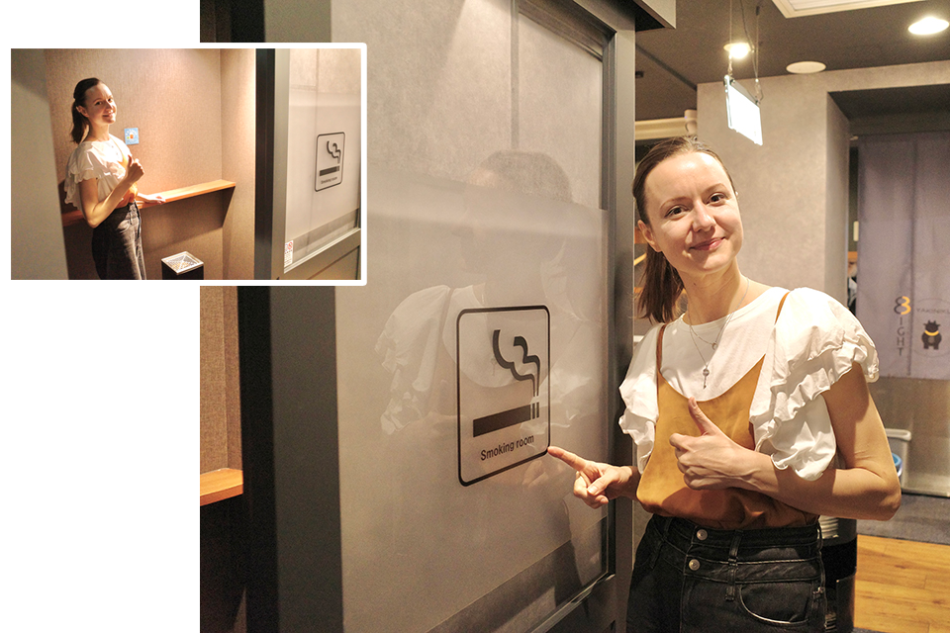 There is a smoking room so smokers and non-smokers can enjoy their meals comfortably.
Although many yakiniku shops still allow smoking, fortunately for us non-smokers, there is a smoking room at the very back of the shop, so it won't affect your dining experience. Yakiniku Eight started their business with family in mind and they want the shop to be a place where families can gather and enjoy delicious meat.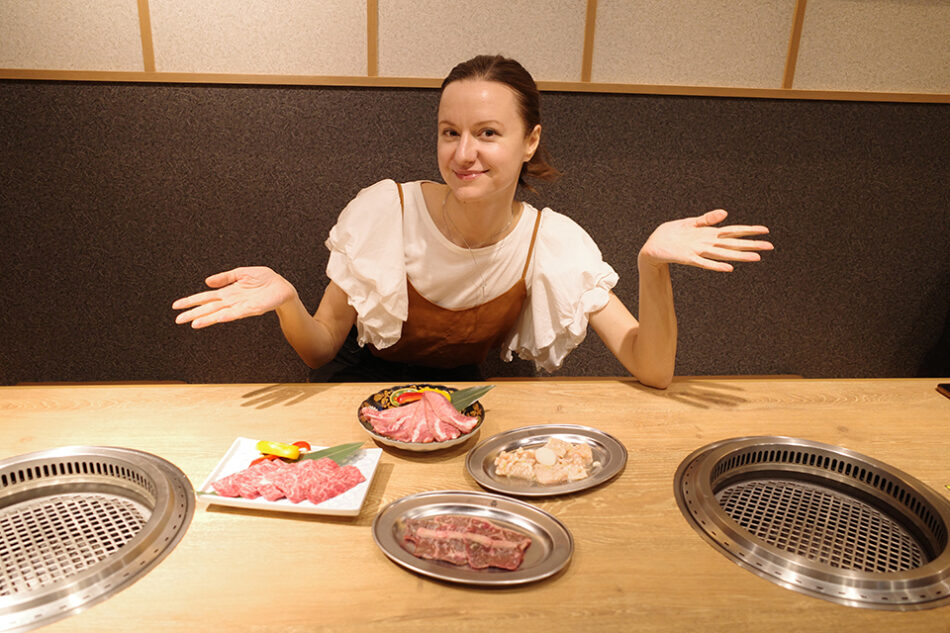 The unique features of Tokyo Yakiniku Eight Kiba Main Branch are their sauce, meat and kawara soba.

Specially Selected Omi Beef Tongue 2,398 yen
Omi Beef is one of the 3 major Japanese beef brands.
Omi Beef is Japan's oldest branded beef with over 400 years of history.
Although most people from outside of Japan are familiar with 'Kobe' and 'Matsuzaka' beef, Omi beef is also very popular in Japan! The shop sources their Omi beef from Shiga and is limited in quantity, so there is a possibility of it selling out. According to the manager, you can call the shop in advance to reserve your order to make sure it doesn't sell out before you get there!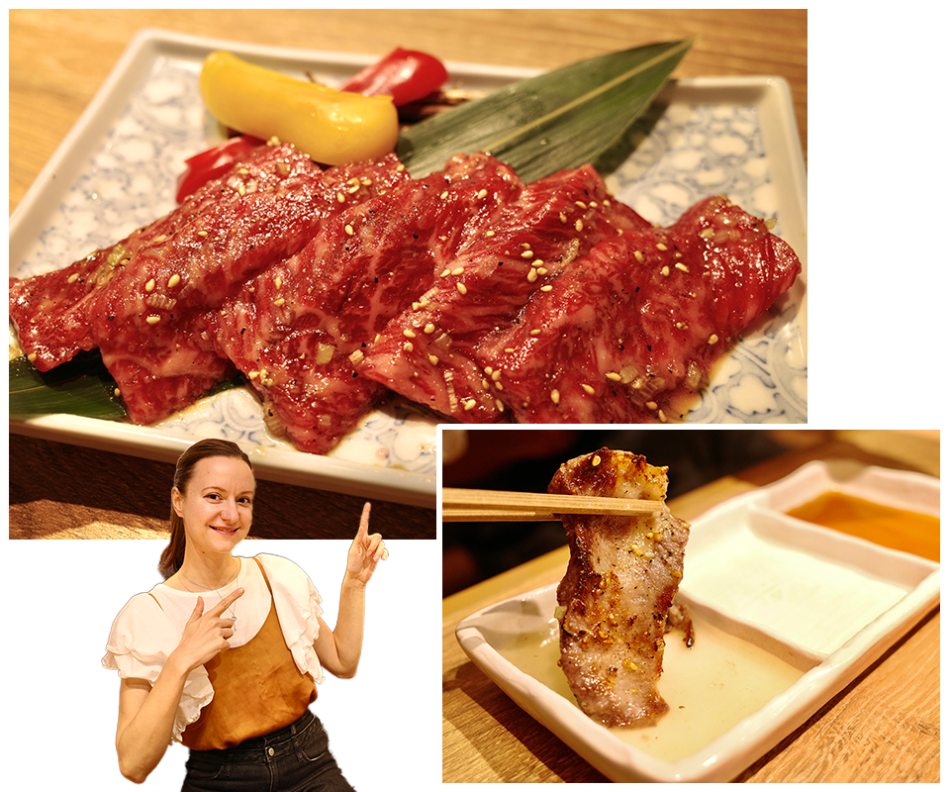 △Wagyu Upper Kalbi (boneless short rib) 1,628 yen
The restaurant offers 2 types of sauces, the secret sauce and the homemade sudachi sauce based on sour sudachi citrus.
The Wagyu Kalbi is delicious on its own, but you should also try their secret sauce and sudachi sauce to change things up. Sudachi is a citrus fruit that is often used in Japanese cooking and has a nice refreshing flavor when dipping meat into it.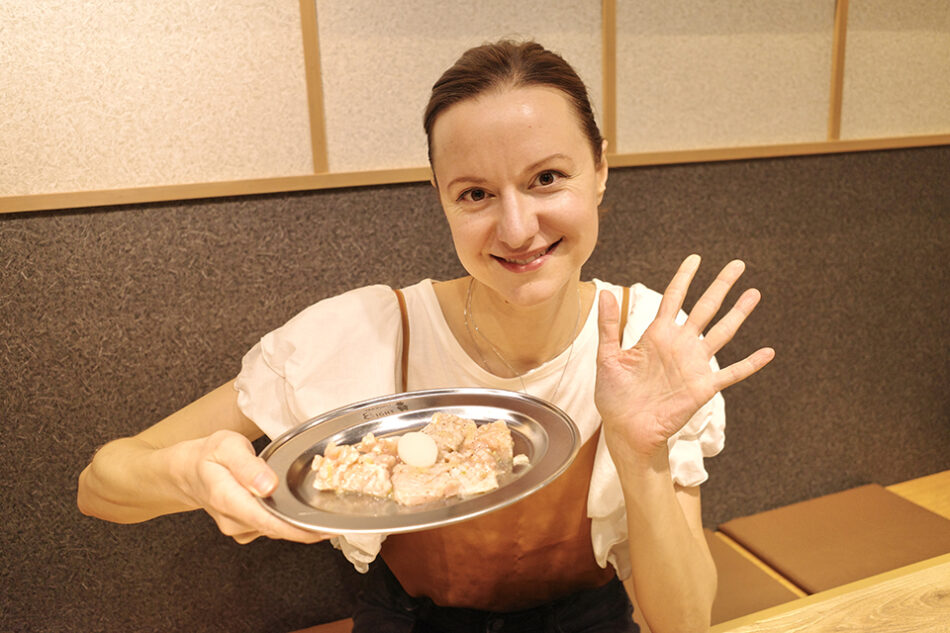 △Specially Selected Upper Mino (Tripe) 1,078 yen
Please try the popular specially selected upper mino and internal organs with the homemade sudachi sauce.
Many Westerns might be put off by the idea of eating animal organs, but they have a lot of health benefits and are highly nutritious. You know the quality is good when the texture is soft and easy to chew, and Yakiniku Eight's organ meat is amazingly delicious. If you've never tried it, this is your sign to try it here!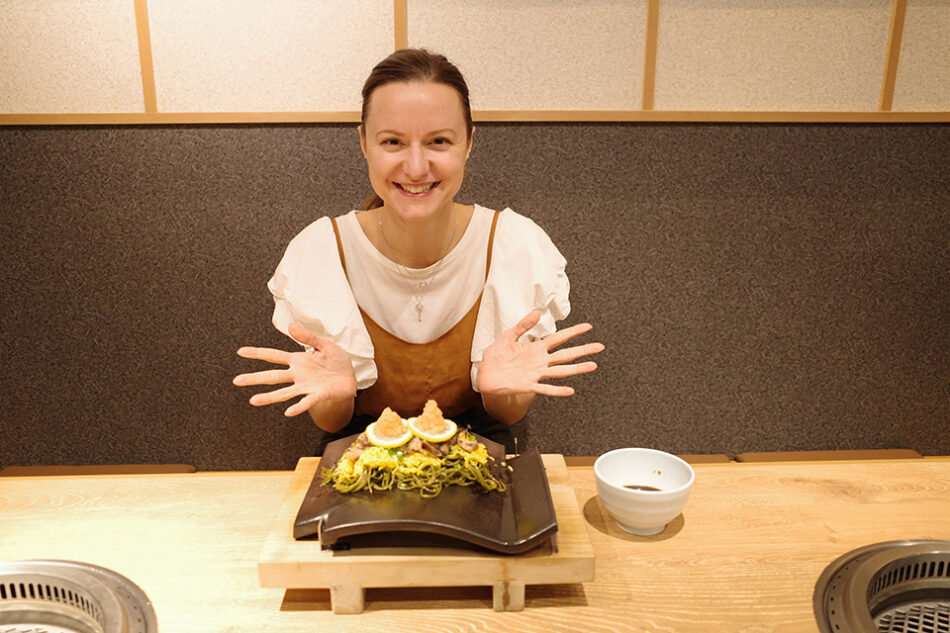 △Specially made Eight Kawara Soba 1,650 yen
The origin of kawara soba is also the hometown of the owner, Yamaguchi prefecture.
It is a noodle dish where boiled tea soba is placed on a hot kawara (tile) added with various toppings such as shredded omelet, beef, seaweed, lemon, and grated radish with chili pepper.
It is rare to find kawara soba in Tokyo, so it makes this item very special. Tea Soba is also somewhat uncommon, so you get double the fun. The combination of these ingredients really surprises the palette, with sweet, savory, and sour tastes and it is very fascinating.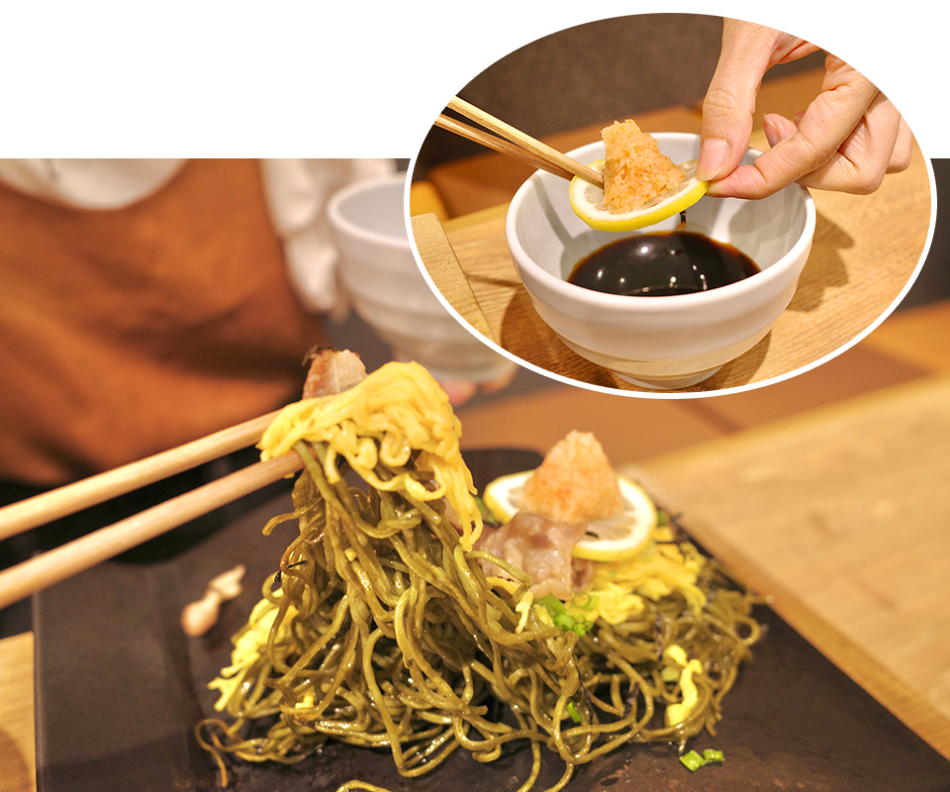 By dipping the topped lemon and grated radish with chili pepper into a warm Tokyo-style soup, you can enjoy the enhancement and the changes of the flavors as well.
It's recommended to squeeze out the juice of the lemon by gently poking it with your chopsticks after putting it into the soup. Make sure to get a bit of everything with each bite.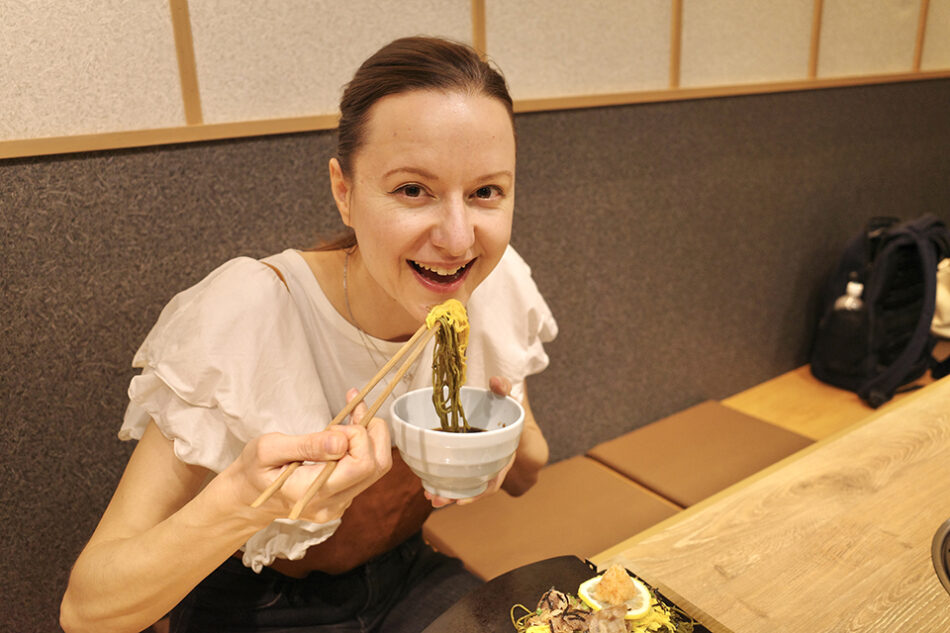 Finish off with kawara soba after you enjoy the delicious yakiniku.
The kawara (tiles) are sourced from the Sanin region, which are famous for having excellent heat storage products, and is one of the owner's products of dedication.
Kawara tiles are the epitome of traditional Japanese homes. They are fired-clay roof tiles and are known to be long-lasting, durable, and very good protection against the elements. It might be a little tricky to keep the noodles on top of the kawara tile, so do your best! If you're looking for a light meal, this is the top choice, but if you're looking to go all out, go for the yakiniku AND Kawara Soba.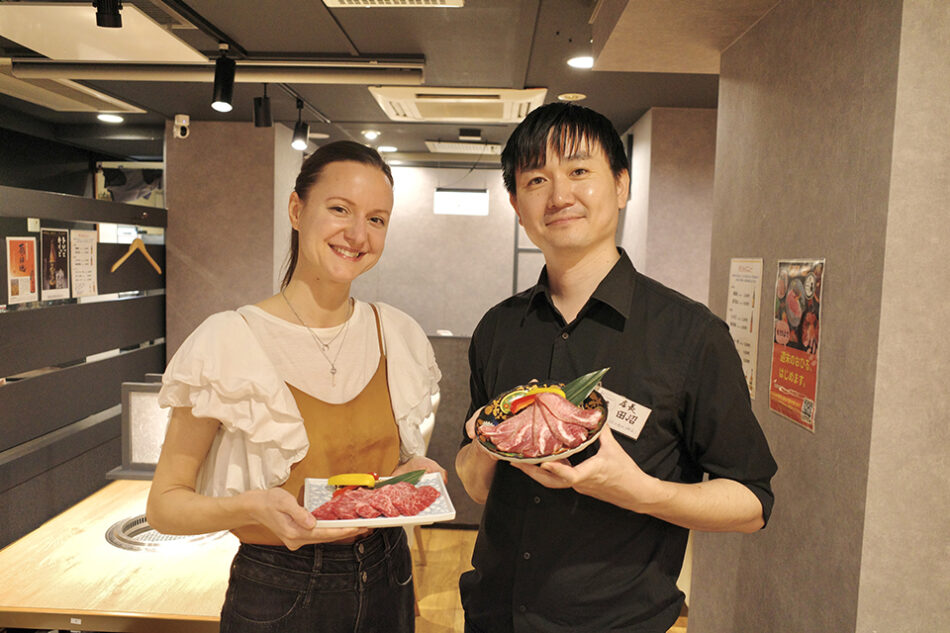 Must follow Tokyo Yakiniku Eight official instagram (@yakinikueight8) since they have special promotions on days that include the number "8"!
One free complimentary drink for customers who have dined using "Kotomise coupon"so feel free to enjoy yakiniku at Eight.
Also, if you get their point card, you will get 1 free order of kalbi on your third visit.
The shop accepts most methods of payment including credit card and digital currency.
Top Picks include:
・和牛上カルビ Wagyu Jou Kalbi (Wagyu Upper boneless short rib)
・特選ミノ Tokusen Mino (Specialty tripe)
・エイトハラミ牛 Eight Harami (Eight belly meat)
・近江牛タン Omi Gyu Tan (Omi beef tongue)
・エイトカルビ Eight Kalbi (boneless short rib)
・瓦そば Kawara Soba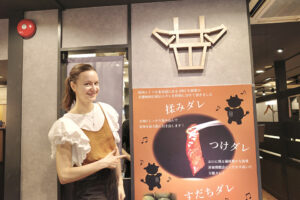 ≪English Article Journalist Profile≫
・Name:Natalie
・Age:Thirties
・Nationality:Poland
・Hobbies:DJ, Making clothes, Up cycling, Painting (pictures)
---
※Information is based on October 2023. Prices, operating hours, and other details might have changed. Please verify with the store directly.
※All prices mentioned in this article include tax.