Medium: Mexican Magic and More
Published: August 16, 2022
Ever get the urge for hot, spicy Mexican food and jerk chicken, washed down with lashings of primo tequila, rum or Latin American craft beers? With a soundtrack of cool music, funky decor and an atmosphere so laid back it's nearly horizontal? You're not alone there, and we've got the perfect place: Medium in Kiyosumi-shirakawa. On a recent sauna-like summer afternoon we dropped in to beat the heat with owner Mr. Akahori and manager Mr. Fujiwara.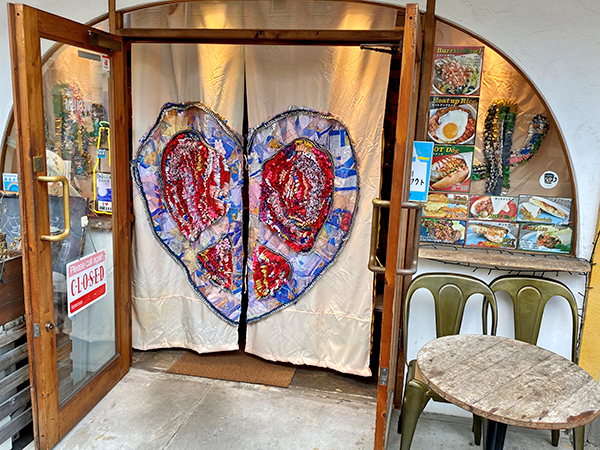 Located just around the corner from the Fukagawa Edo Museum, a 4 minute walk from Kiyosumi-shirakawa station, Medium opened in 2013 and quickly became a fixture on the local scene. This marvellous heart tapestry was created by interior designer Mr. Akahori from scraps leftover from a commission.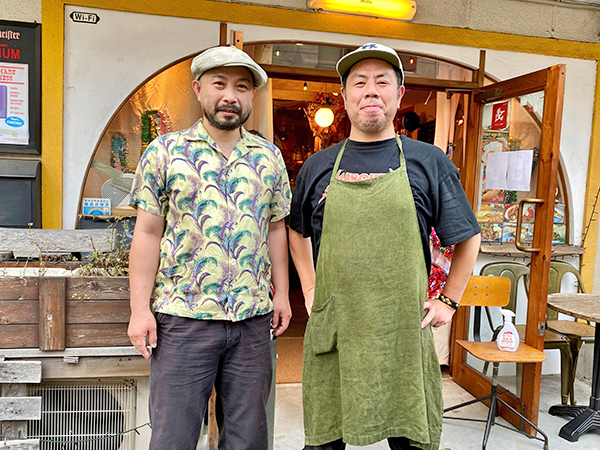 Mr. Akahori (right) is president of an interior design and furniture production company, while Mr. Fujiwara has been the manager of Medium since 2016.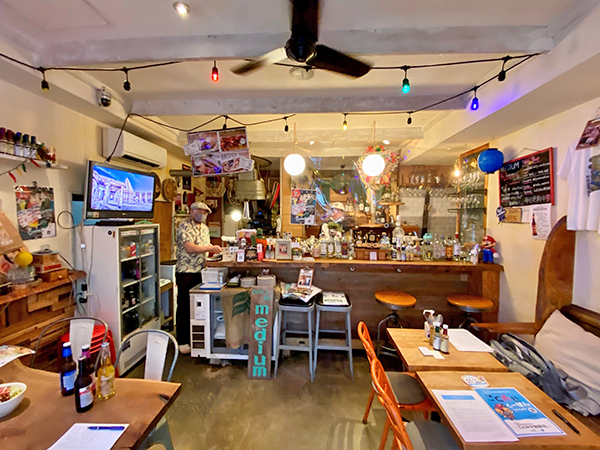 The interior counter, tables and chairs were created using waste wood from other interior work. Medium was clearly a trailblazer in the now ubiquitous world of upcycling and SDGs. The beautiful bar counter is made from ash and walnut.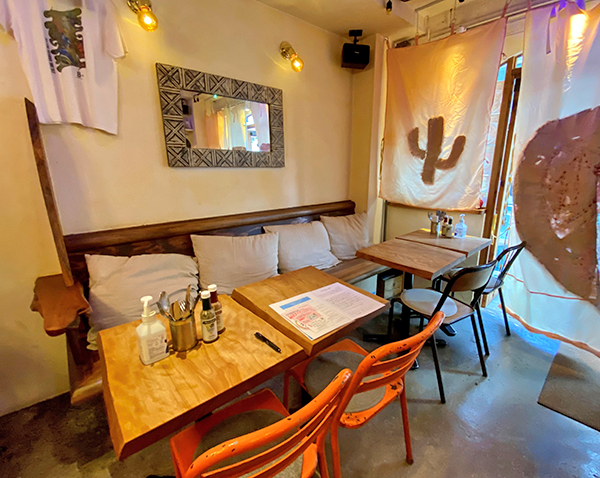 While other tables and chairs were made from elm, or like these tables, from one piece of cherry wood.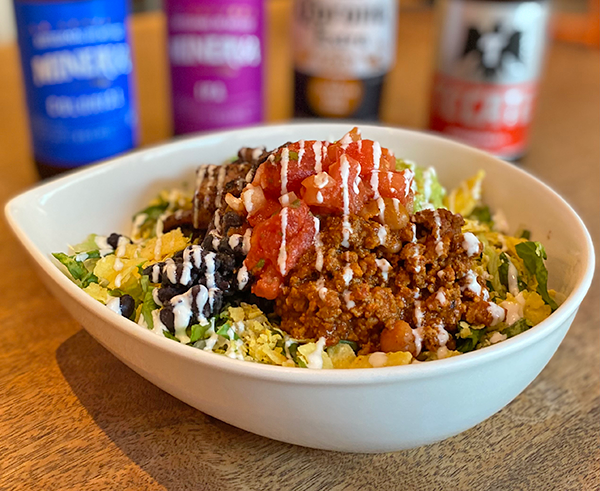 By far the most popular item on the lunch menu at Medium is the Burrito Bowl with jerk chicken and taco meat (850 yen with soup). All drinks have a 100 yen discount during lunch time (11:30-15:00). On a bed of rice are piled spicy jerk chicken, taco meat, black beans and a host of vegetables including tomato, avocado and lettuce. It's topped with crumbled tortilla chips and slathered in a sauce of mayonnaise and yoghurt. "It's not overly spicy and entirely suitable for kids," says Mr. Fujiwara.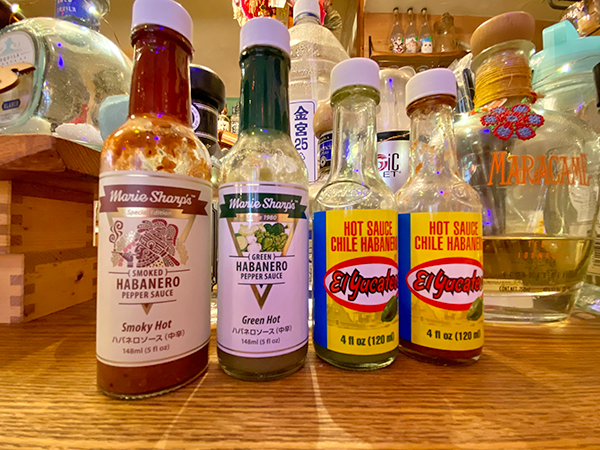 "All recipes come from the previous manager, a Mexican chef, and are faithfully maintained still now. Those wanting more heat can add dashes of the many chili and hot sauces available," he added. The burrito bowl mix of spicy chicken, juicy taco meat, beans, salad, herbs and spices is a natural winner!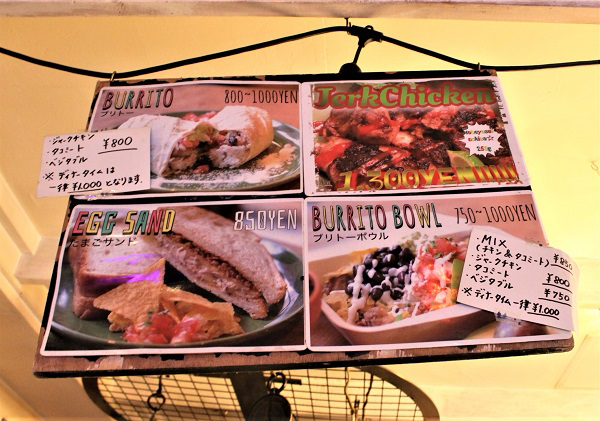 Aside from the burrito bowls there are burritos themselves (from 800 yen at lunchtime, four varieties: taco meat, jerk chicken, pork, vegetable), fish burgers (1,000 yen), hot sandwiches (egg or cheese and bacon 850 yen), hot dogs (850 yen) and a spicy rice bowl (1,000 yen). Nice!
The hot dogs are sourced from a specialist hot dog shop where Mr. Fujiwara was previously the manager and as such meet his high standards. Everything on the menu is available for take out, perfect for those working at home or visiting one of the nearby parks and gardens.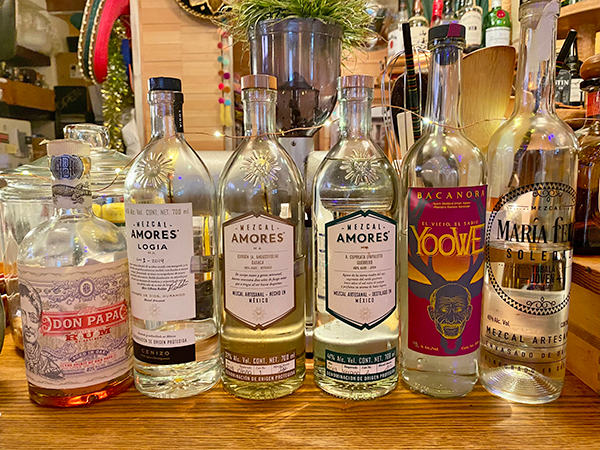 The dinner menu is more expansive, with a variety of appetisers, nachos, salads, fritos, tacos and burritos, but it's the drinks menu that's a real eye-opener, featuring a remarkable selection of tequila, mezcal and craft beer. There are a dozen or so tequila brands, ranging from 800 yen a shot to 1,500 for the premium brands, plus eight varieties of mezcal, including some super rare and pricey ones. There's even some Peruvian pisco and Yoowe Bacanora from Sonora in Mexico. ¡Salud!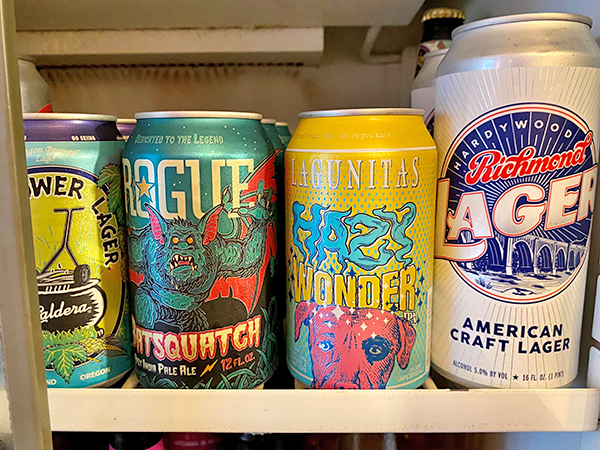 Medium stocks an astonishing 150 different beers from a variety of countries. All tastes are catered for: Mexican, Jamaican, American, Belgian and Japanese craft beers are all in evidence on the cool shelf.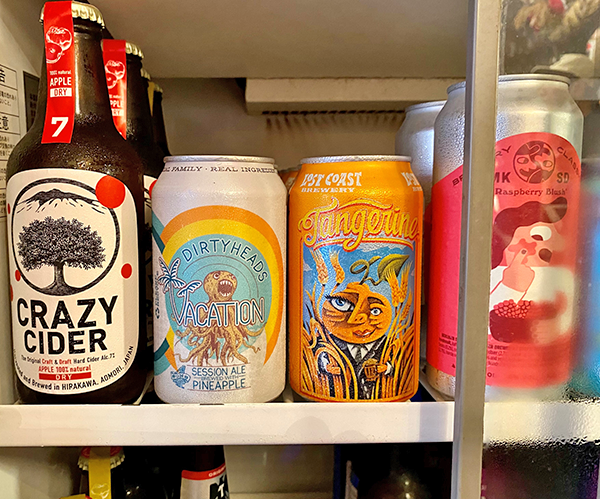 Mr. Akahori said he enjoys the complex flavours of hazy IPA with spicy food, while Mr. Fujiwara recommended the Minerva craft beer from Guadalajara in Mexico as the best accompaniment to a burrito bowl.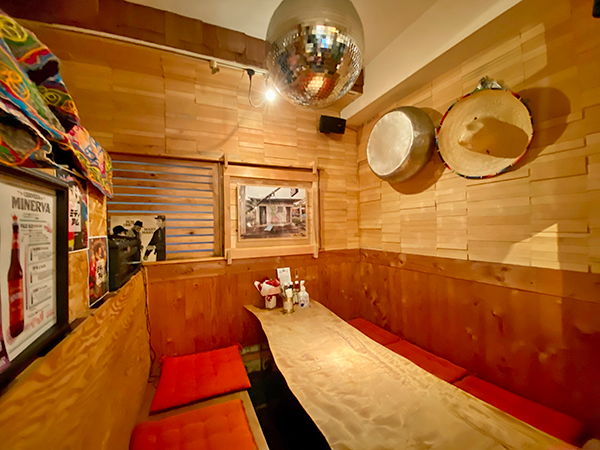 So, great food and a unique drink selection, cool interior and a funky atmosphere. What more could one want? A mirror ball, of course. There's one in the small back booth which is once again beautifully constructed from left over wood. Medium held a variety of events in the past, including DJ nights, but these have necessarily been curtailed due to the pandemic. Please follow the social media links in the Medium website to find the latest news. It's a fun place that attracts an interesting clientele; definitely one to check out if you're in the Kiyosumi-shirakawa area!
Story and photos by Stephen Spencer