Pilates for Life at health fit
Published: December 27, 2021
Health fit is a brand-new studio in Kameido dedicated to health and fitness through Pilates, yoga and other exercise. On a recent afternoon, we dropped in for a chat with the perfectly-postured and astonishingly flexible owner Ms. Miyanaga.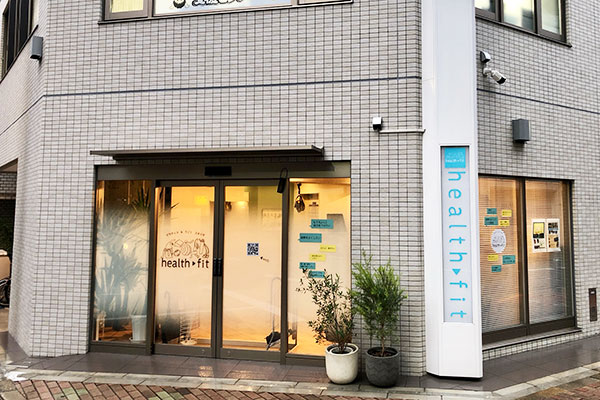 The studio opened in July 2021 in a purpose-built space just five minutes' walk south of Kameido station, just off Meiji Street. It's right on a corner so you can't miss it!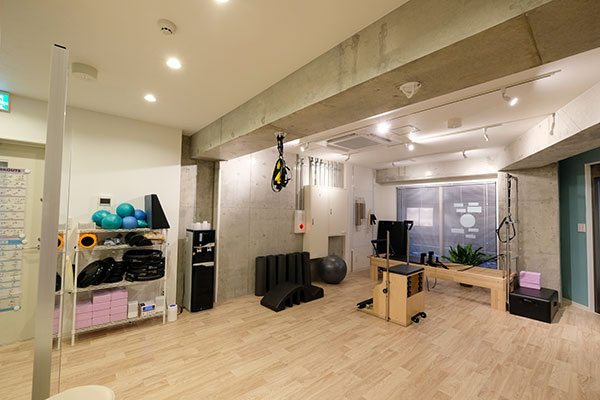 The interior is light and airy with high ceilings. Various Pilates machines and exercise equipment are dotted around the studio, while there are both private and communal changing rooms.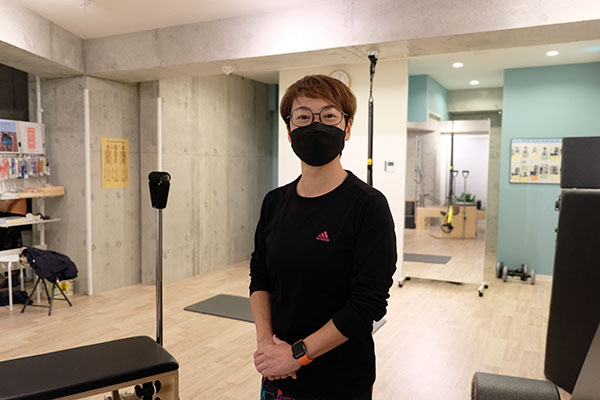 Ms. Miyanaga began her career as a sports club trainer in her student days, then became a Pilates instructor and a personal trainer. "Scientific, easy to understand, and cenesthetic" are the tenets of her instruction style to students: desk workers, fellow professionals, health care workers, home-makers, senior citizens and many local residents.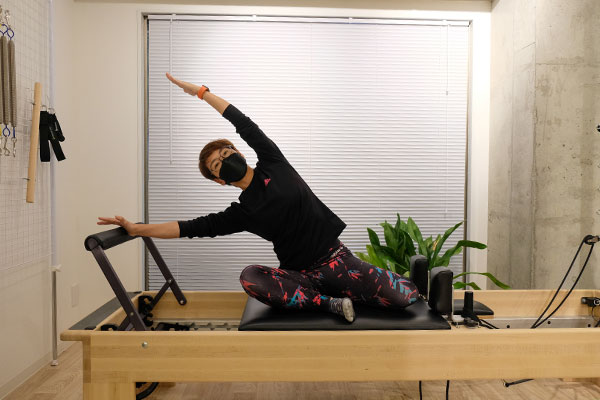 The lessons are taught by both Ms. Miyanaga herself and a group of instructors hand-picked for their ability in Pilates and various aspects of yoga. Classes are personal, in groups or online; all beginners undergo extensive counselling to identify their targets and how to reach them.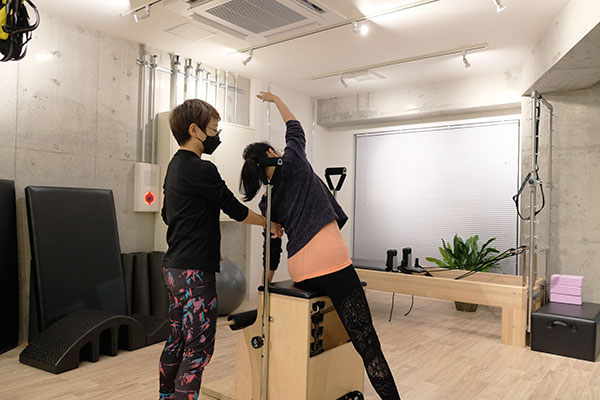 In the private classes, each student's posture and physical condition is closely analysed to facilitate the creation of an individual programme of movements and exercises. To show just how this works a fellow Pilates instructor allowed us to view her lesson with Ms. Miyanaga. "Coming here allows me to focus on areas that I have difficulty in exercising by myself," she explained.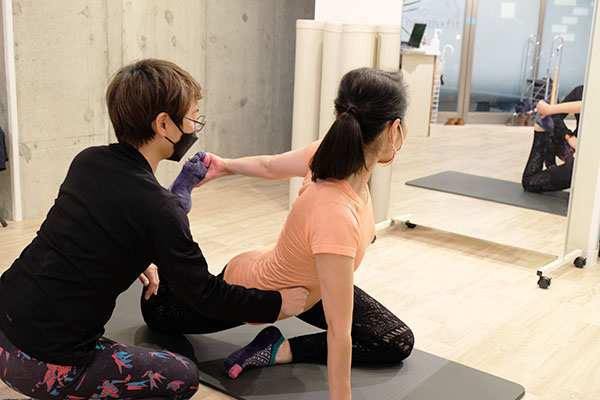 Even for a professional instructor some of these poses and movements were tough.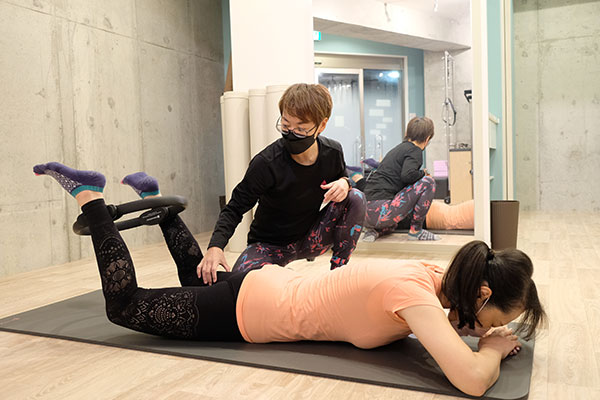 The flexible ring seemed innocent enough but in muscle strengthening exercises for the lower body it brought yelps from the student. The key role of the personal trainer is tailoring the exercises to the person. As Ms. Miyanaga said, "Before starting muscle-building or aerobic exercises we have to build a firm foundation where the body is regulated and can move easily. If you try training without proper physical conditioning then that's how injuries happen. Here we are building that foundation while simultaneously training."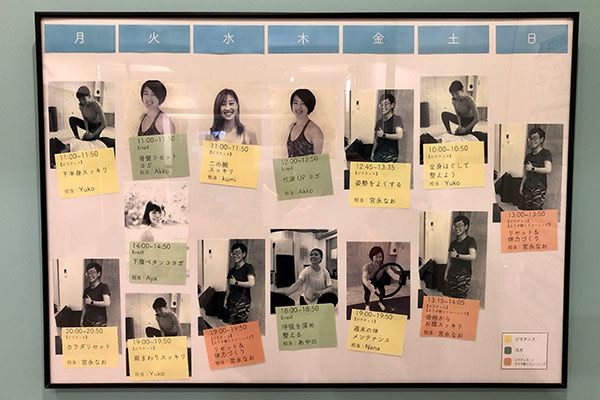 Group lessons are available in a variety of styles (Pilates, yoga, movement training) with a variety of targets (balance maintenance, pelvic reset, lower body strengthening, posture improvement and more). Groups are up to five people. In the weekly schedule shown here Pilates classes are marked in yellow, yoga in green, and Pilates with movement training are in orange.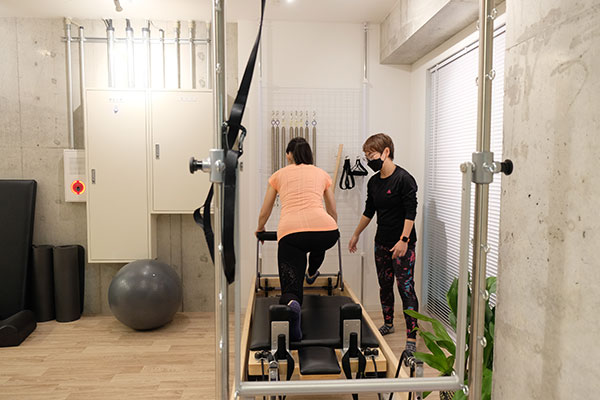 Pilates may have spread all over the world with the name a familiar one, yet many people (like me) have only the vaguest idea of what it entails. Health fit offers trial lessons for those curious: personal trial lessons are 3,300 yen for a 50 minute trial with posture measurements, counselling and some exercises, group lessons are 1,100 yen per person for the same and online trial classes are 1,000 yen. Students who join the online zoom class plan can enjoy an unlimited number of classes for a  fixed fee every month. This system is very popular with those living far away and mothers of young children.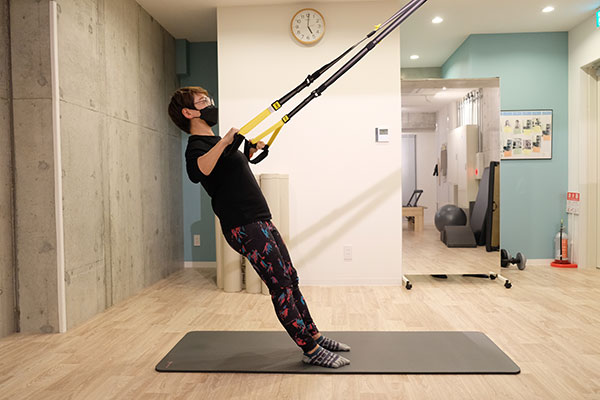 Needless to say, Pilates is not only extremely difficult but even a brief trial is enough to show how out of condition a person can be. As Ms. Miyanaga stressed, health fit exercises are designed to reset your body, to create a foundation that other exercises can build upon later. If that sounds like what you need, then just arrange a personal trial or a group trial to see for yourself. It's never too late to start!
Story and some photos by Stephen Spencer