Squash For Health at Be-Win
Published: October 11, 2022
While Japan is most definitely a sports-mad country, one sport that has struggled to make headway into the popular consciousness in recent years is squash. Aiming to set that straight are the staff of Be-Win Squash Club in Ariake, the brand-new purpose-built club in the south of Koto-ku, who made us most welcome on a recent visit.
Be-Win Squash Club is located on the upper floors of an adjunct to Buddy Sports Arena, a large multi-sports complex that opened in Ariake in 2018. For those visiting by train, the club is a 12-minute walk from Ariake Tennis-no-Mori station on the Yurikamome line, although there are city buses to Ariake 1-chome bus stop and free shuttle buses from Toyosu station and Odaiba Kaihin Park. The ever popular share cycles are also available from the station.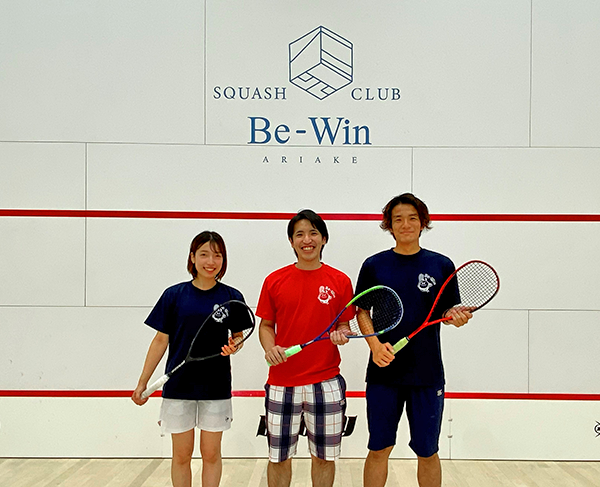 The youthful and dynamic staff in attendance on the day we visited were, from left to right: coach Yanagisawa, head coach Shingo and coach Kurousu. Head coach Yoshitome Shingo is a former ranking player who made the final 32 in the all-Japan championships for two consecutive years in 2016 and 2017, then obtained the Japan Squash Association's Level 1 coaching qualification.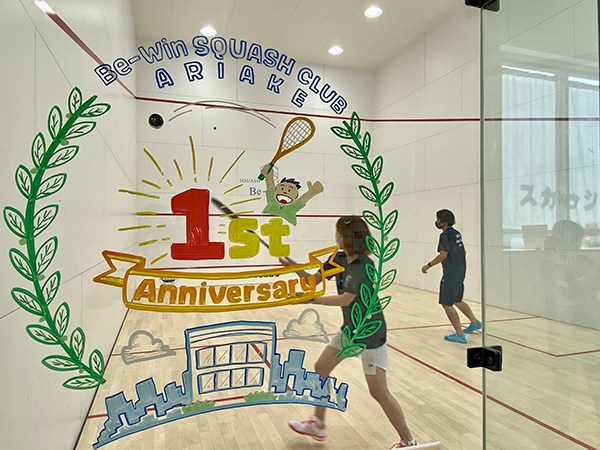 Squash had its origins in 19th century England before spreading across the globe, as head coach Yoshitome Shingo explained, "Squash is now played by around 20 milliion people in 185 countries around the world. In Japan about 80% of squash courts are found in sports clubs and it can be difficult to find a place to play. We are the only squash club in Koto-ku. Our aim is to promote the sport to new players for health, exercise and enjoyment."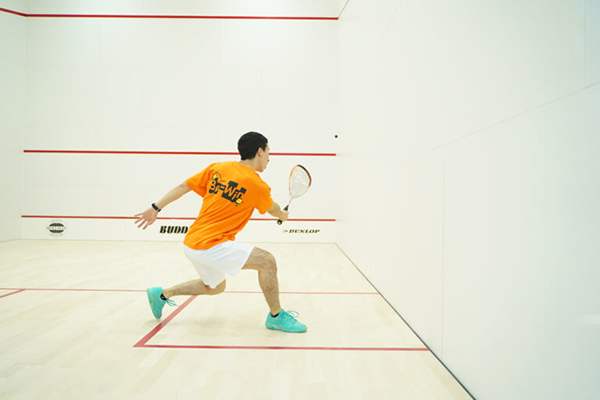 "Many people see squash as an intense sport for the young and extremely fit, but that's not the case at all. Although it's a rally sport the ball remains in play longer due to the shape of the court, and the skill comes in moving your opponent around the court. It's a thinking game, a bit like chess, where a 40 year old can beat a 20 year old by playing tactically," he added. "It's also very popular overseas, with many companies having a squash court or two in their building for the staff to play before or after work." Be-Win has many foreign residents of the area as members.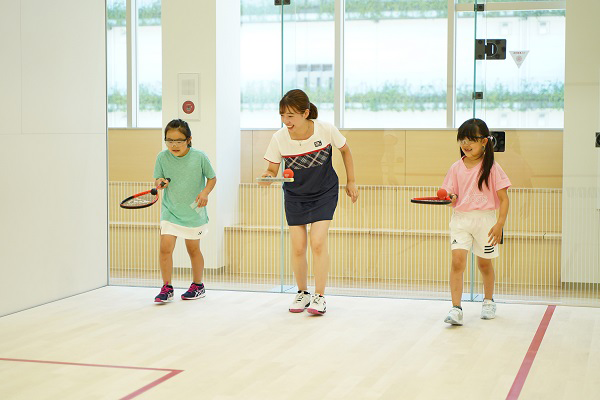 Be-Win offers a host of classes for kids, beginning with four year-olds in the kindergarten classes. There are two levels for preschool kids, and four levels for elementary school age children up to 12 years old. The children start from zero, beginning with a red sponge ball and junior sized rackets. The schedule plan can be seen here, with some classes offered in English!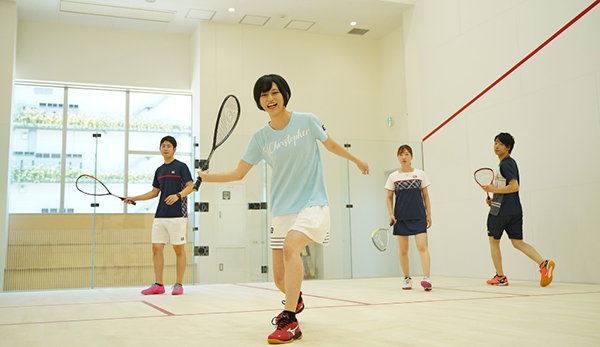 Interestingly, many of the adult squash students at Be-Win are in the thirties to sixties age groups, with 70% total beginners. The oldest is a beginner in his sixties. "It's never too late to start," as head coach Shingo said. Around 40% are women, many of whom have their children in the international kindergarten on the first floor. "It's convenient and very good exercise for those who wish to lose weight or improve their fitness level. The first concept is to enjoy playing the game," he said.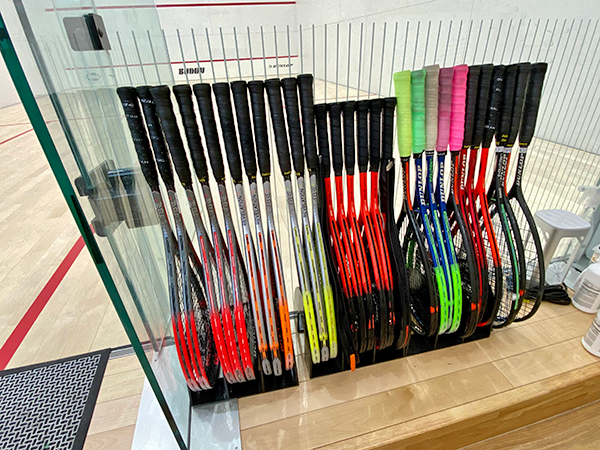 Be-Win has a variety of racquets and balls for rental free of charge. Players need to bring only loose clothes and shoes to play!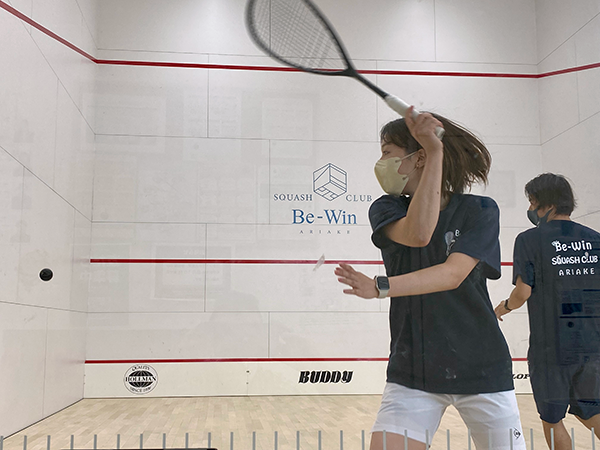 Be-Win Squash Club's parent school has been developing top squash players in Japan for over 20 years now. Many have represented Japan at national level while also gaining high finishes in junior competitions; these players then become coaches, passing on their experience to the next generations of youngsters. "The high-level experience of veteran coaches is a strong point of Be-Win," emphasised coach Shingo.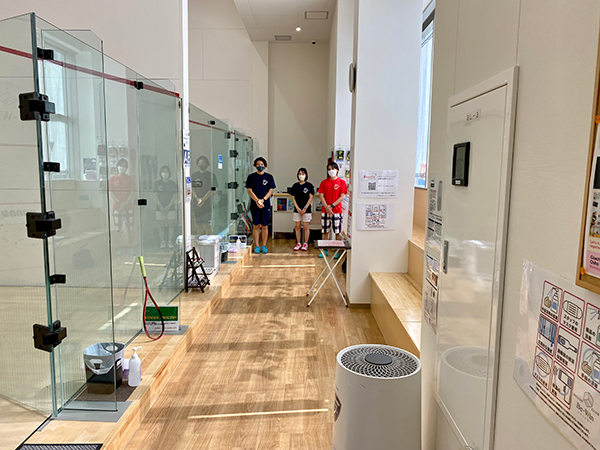 Customers at Be-Win can use the lockers and showers of the SegaSammy sports arena next door. My colleague and I spent a few minutes each on the court with the coaches, thrashing the ball around with joyful abandon. Never having played before I thoroughly enjoyed it, and the stress relief aspect of squash seems very strong. With winter approaching squash appeals as a healthy indoor sport one can enjoy regardless of the weather.
Anyone curious about the sport, lapsed players or those looking for something new are recommended to take advantage of the Kotomise coupon which offers a free trial lesson and a discount on classes.
Story and photos by Stephen Spencer