Stylish Footwear Maintenance at Real Leather Dressing
Published: August 9, 2019
Beloved brogues looking slightly down at heel? Favourite bag fraying around the edges? Boots blossoming mold in the Tokyo rainy season? If that's you, then never fear, we have the perfect answer: the amazingly adept Mr. Shinji Yamada and his wonderful shop, Real Leather Dressing. On a recent sultry morning we dropped in for a chat with the eloquent and affable owner.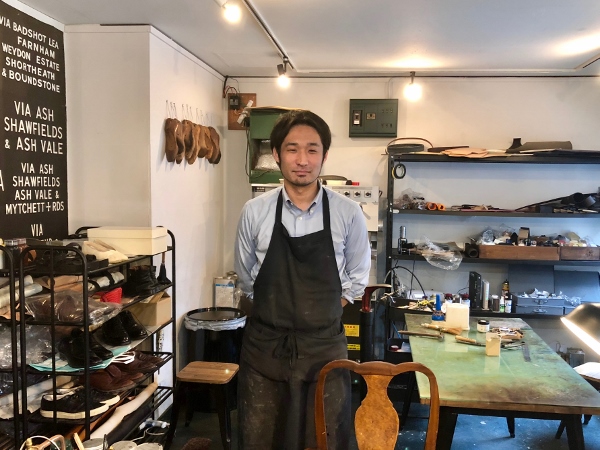 Located just two minutes' walk from Morishita Station in the Shin-Ohashi area of Koto-ku, the exact nature of the shop is indeterminate from a distance. Is it a bicycle repair shop, a gentleman's hair salon or a tailor's? The choice of British Racing Green as the dominant exterior colour notwithstanding, up close it's revealed to be a shoe and bag repair shop. "I'll clean, repair, and fix any leather footwear or bags," says Mr. Yamada, "I'm really good," he adds with a laugh.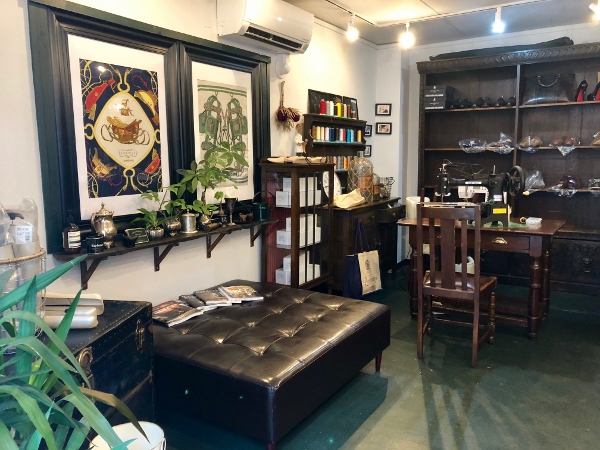 Born in Fukuoka and now a resident of Kikukawa, Koto-ku, Mr. Yamada began his career as a hairstylist in his home town before heading off to Europe for a couple of years. On his return, he joined a repair shop in Roppongi, where he worked for several years, learning on the job. "Eventually I reached the point where I wanted to become independent. I'm confident in my technique of course, but mainly I felt a need to be in control of my own environment, my own space," he adds.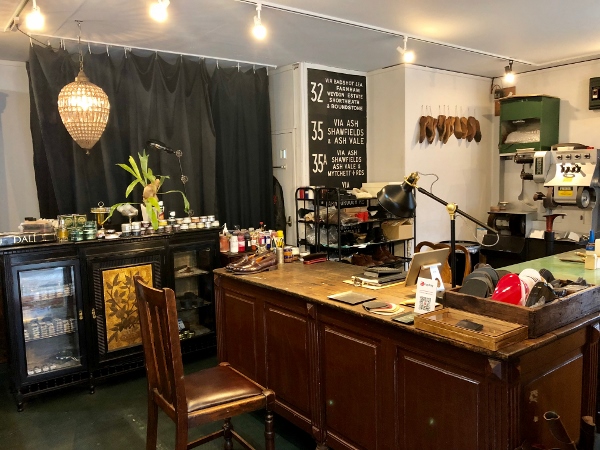 The stylish interior items, many of which are of English origin, come from antique or interior goods firms and lend a decidedly British air to the premises, as does the 90s UK pop and rock background music. The fragrant smell of leather adds greatly to the ambience as well. It's a very comfortable space.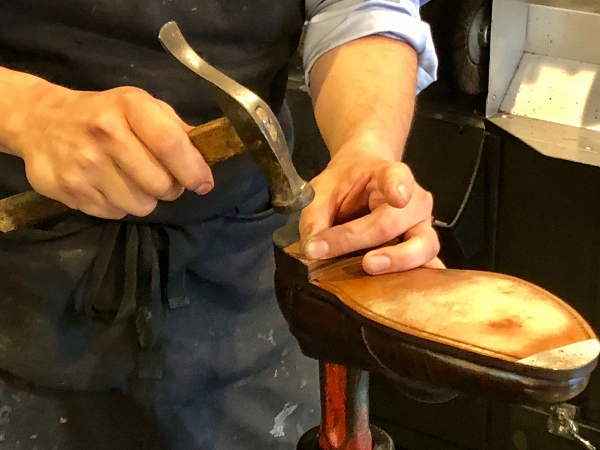 "When I decided to open my own shop, I discounted west Tokyo as there were already many people offering similar services. I like the Fukagawa area and looked for a place around here. The people are very friendly, it's very convenient for areas like Nihonbashi and Otemachi and many people have good shoes, which is very important," he says with a laugh. "I found this place, had it redecorated and opened in April 2018."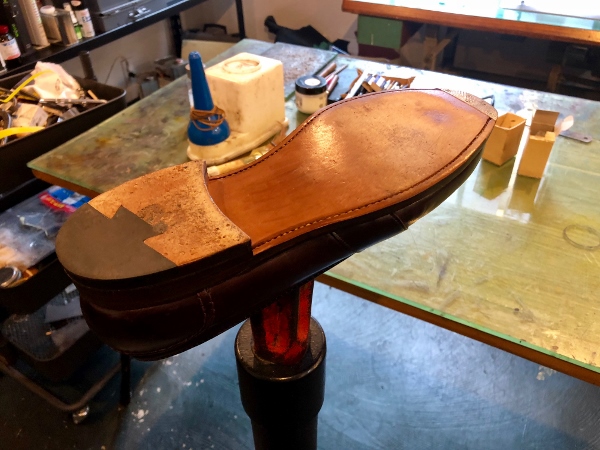 Customers can take their boots, shoes, or leather bags into the shop for Mr. Yamada to make an assessment. He's very confident in his ability to rejuvenate shoes, saying, "I can do the impossible. Well, the nearly impossible at any rate. Often the repair fee is more than the value of the shoes. Many people have their favourites that are perfectly serviceable but need the occasional resoling or relining." Real Leather Dressing offers a very wide range of services for both men's and women's footwear at very reasonable prices, including widening shoes.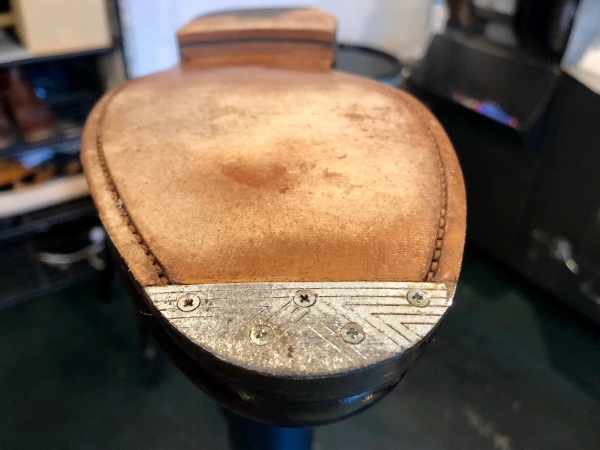 "While most of my customers are local people, I have some from Toyosu, Monzen-nakacho, Edogawa, and Ningyocho, as well as some older ones from Roppongi. I can work on any kind of leather; pigskin, sheep, goat, horse, kangaroo, crocodile, and so on. I'd say about 70% of my customers are men. Adding lifts, resoling, relining, repairing the insoles, and cleaning stains or scratches are the most popular services," he adds.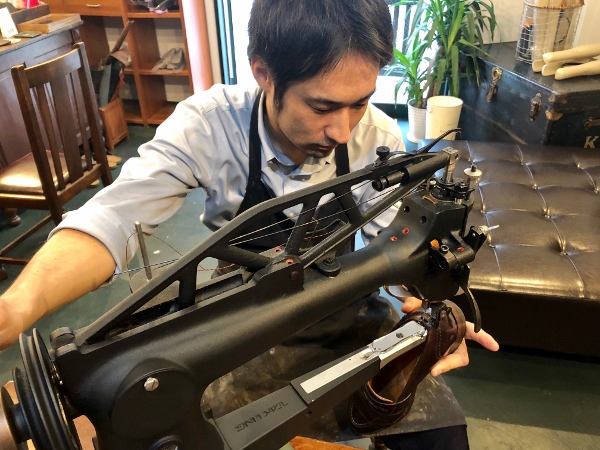 Mr. Yamada also offers a full range of bag repairs: replacing fasteners, straps, padlocks, frayed spots, mending corners, and so on.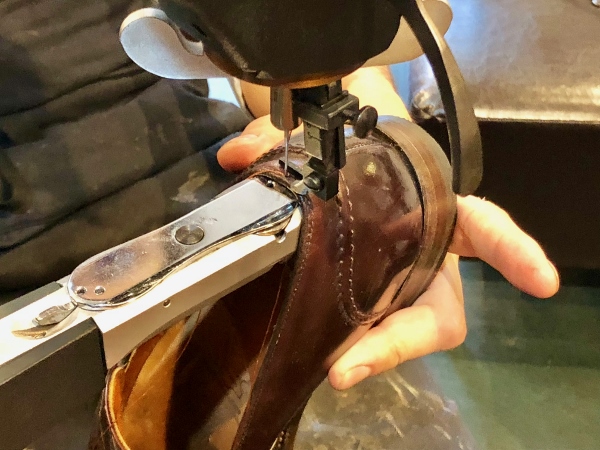 He expertly re-stitches a well-worn pair of brogues.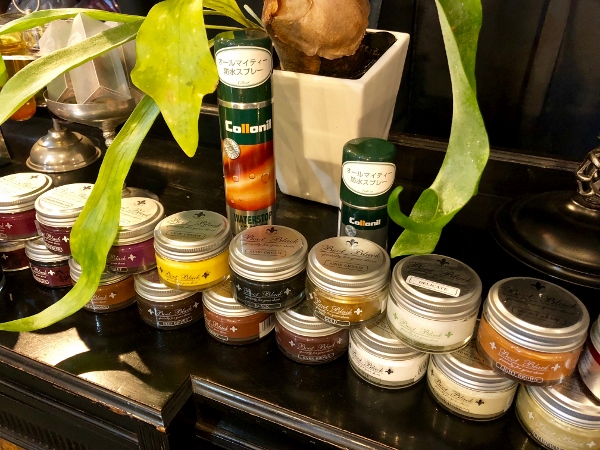 Along with repairs, Real Leather Dressing offers total care for both shoes and bags. Cleaning for ladies' shoes costs 2,700 yen while mens' begin at 3,200 yen. Cleaning and area colouring costs 3,700 and 4,300 yen respectively with cleaning and total colouring at 5,400 and 5,900 yen. Prices for short boots and long boots increase progressively.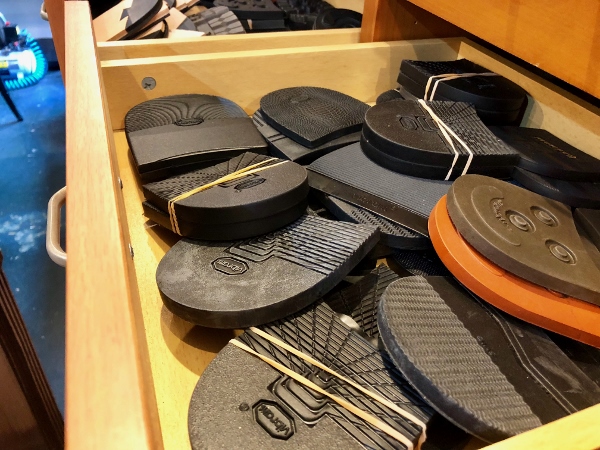 Treat your shoes to a total makeover; they'll be like new!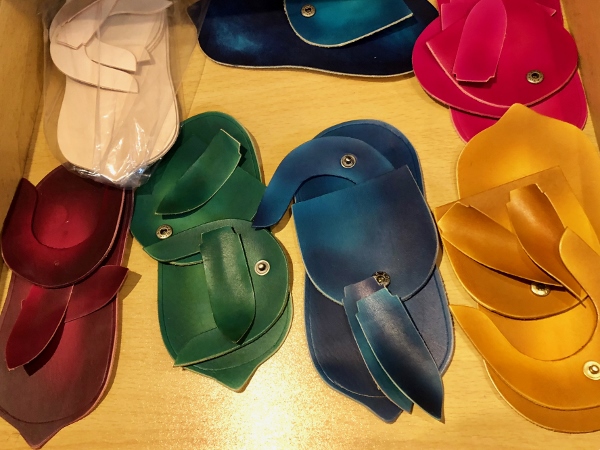 While Mr. Yamada is not a cobbler himself, he has been branching out into dyeing leather and making smaller items such as purses.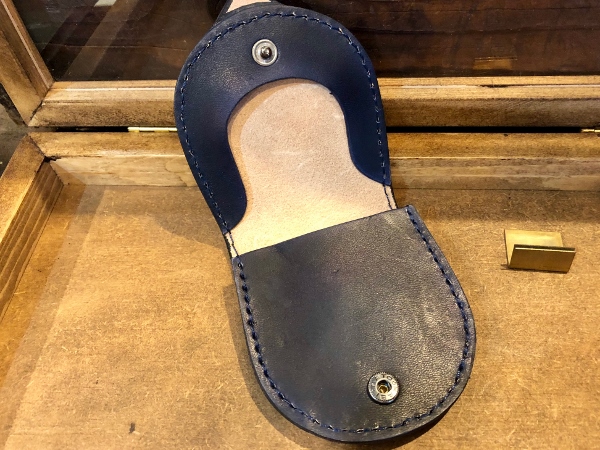 "I've only been open here since April 2018 so I'm mainly focusing on developing my business here right now, but I'd say the future would be in making things by myself, small leather items such as purses and maybe sandals. I've been making these purses and will be putting them on sale soon for 5,400 yen including tax. Maybe in a pop-up store and on the internet," he explains.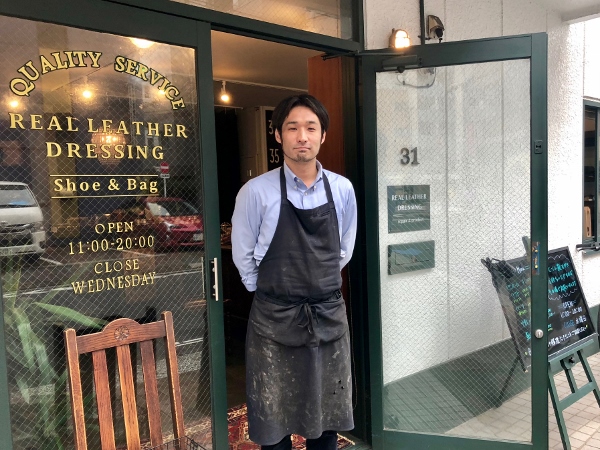 Whatever your repair needs, from the total rejuvenation and resoling of your John Lobb brogues to a quick polish of some scuffed sneakers, Mr. Yamada is your man.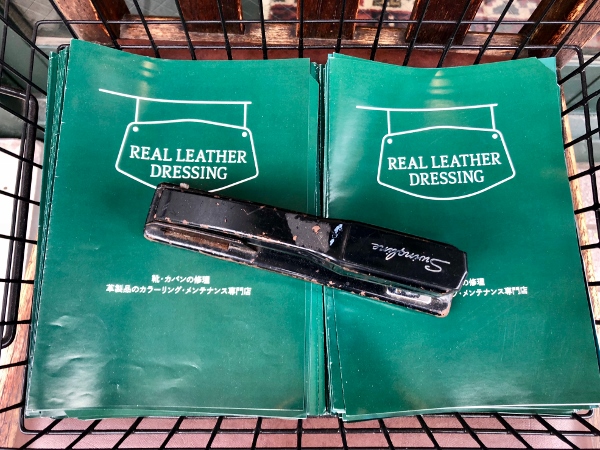 Story and Photos by Stephen Spencer