Stylish Whiskey Bar for Adults
Published: March 26, 2021
Bar.suzuki is a stylish bar near Monzen-nakacho station dedicated to the joys of whiskey. It's also an oasis of quiet and calm, where cool jazz trills and workaday cares seem far away. On a recent afternoon, we left the city noise behind and met the proprietor, Ms. Yumiko Suzuki.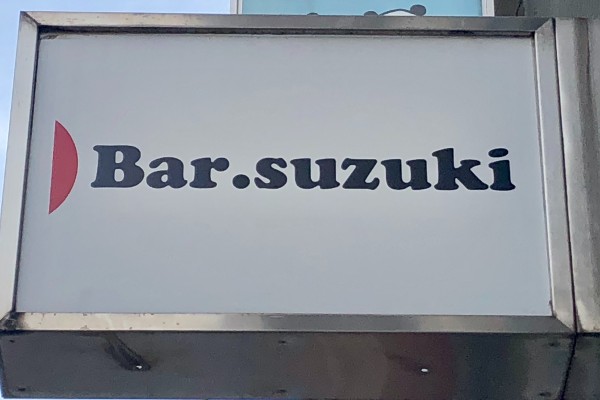 Located on the second floor of a narrow building facing Eitai street, just west of the Kiyosumi street crossing, it's just a two-minute walk from the station. A perfect location for those popping in for a snifter on the way home, or a postprandial drink.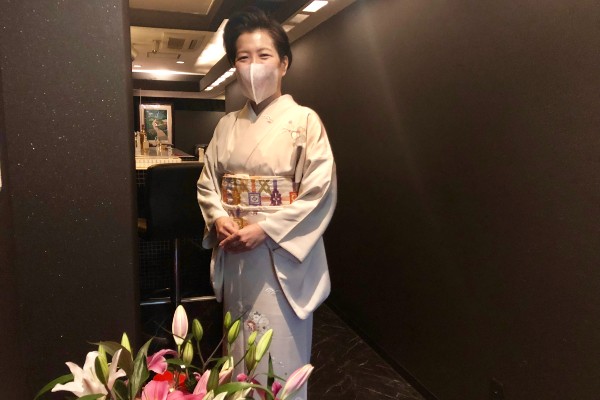 The chic interior is decorated in a dark monotone, with Ms. Suzuki radiant in a stunning kimono. Decoration is simple; a vase of lilies at the entrance and a print on the back wall. While very elegant, Ms. Suzuki is most friendly and welcoming, with an open and candid manner that charmed both myself and my female colleague.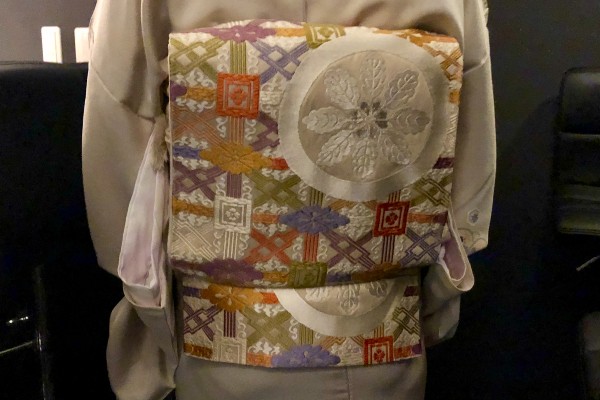 The stunning kimono belt was so beautiful it demanded its own photograph. Ms. Suzuki has long studied the Japanese arts of kimono, flower arranging, and the tea ceremony, yet provides a sympathetic ear to the grumbles of her many regular customers, which include many ladies in their thirties.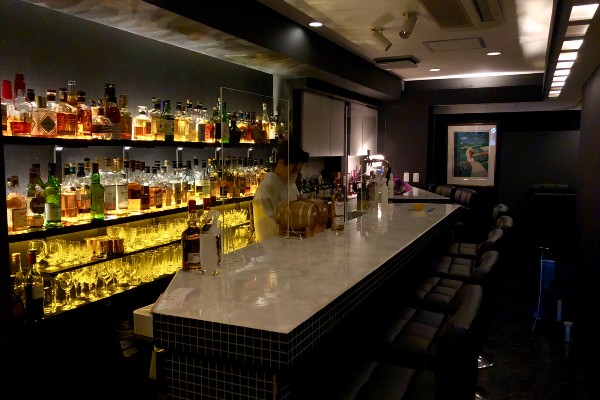 The discrete lighting illuminates the golden bottles and sparkling glasses of the back bar, while the plush stools are as luxurious as the smooth jazz emanating from the high-end sound system.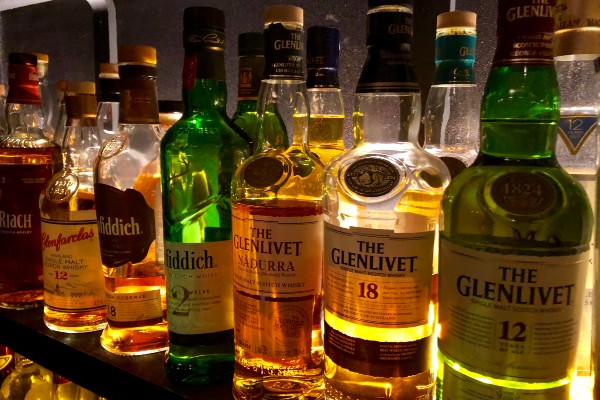 As Ms. Suzuki explains, she stocks around 200 varieties of whiskey, including some rare and unusual brands. "I have the Scotches arranged with the peaty, heavier Islay brands on the left and the lighter, floral ones on the right," she explains. The menu has them arranged geographically: an 18-year Talisker (2,500 yen), an 18-year Caol Ila (2,200 yen) and an 18-year Macallan (4,200 yen) immediately catch the eye.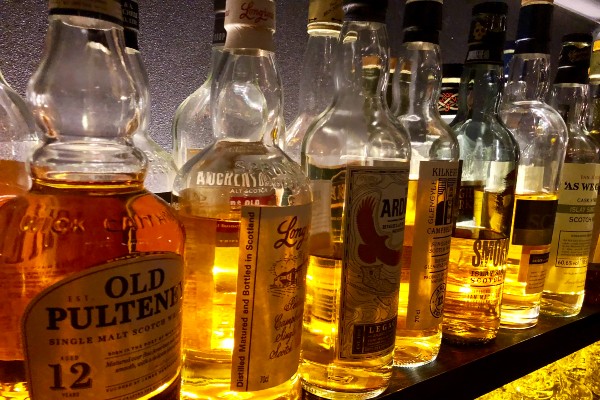 Aside from these heavyweights, there is a wide range of aged Glenlivet, Glenmorangie, Laphroaig, Bowmore, Lagavulin and many, many more all at reasonable prices, beginning at 1,000 yen.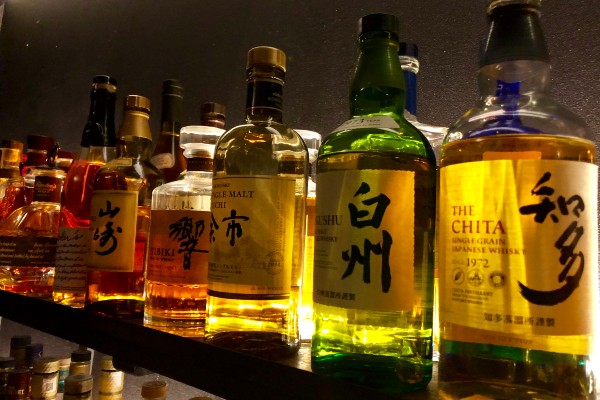 Premium Japanese brands such as Yamazaki, Hakushu and Taketsuru are also well-represented.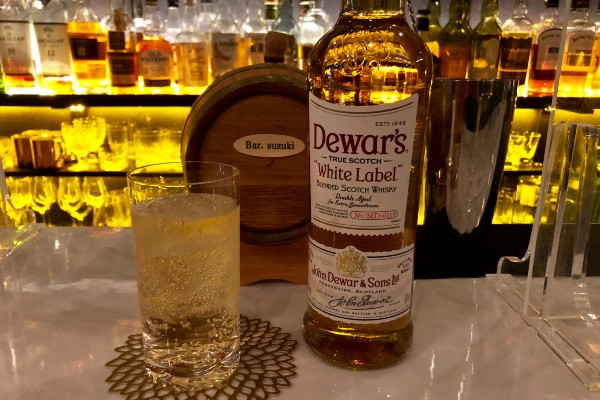 The bar's signature drink is this Suzuki highball, at 990 yen, including tax.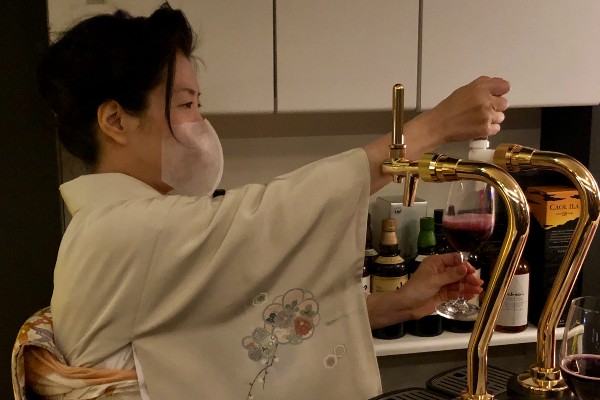 Bar.suzuki also offers wine from the renowned Fukagawa Winery. Customers can enjoy a glass straight from the barrel for just 880 yen.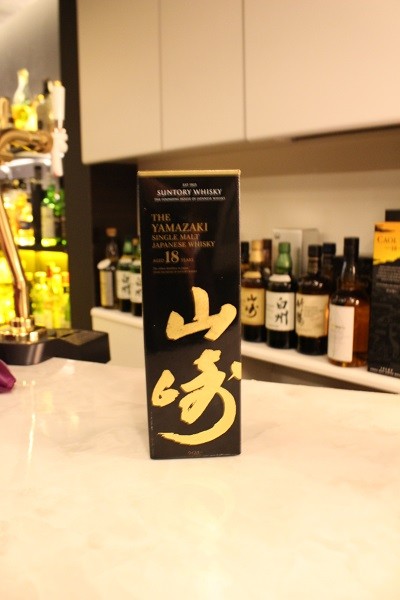 At the other end of the price spectrum is this 18-year Yamazaki. It's not all Scotch whiskey though, as Irish whiskey, bourbon, brandy, tequila and other spirits are available.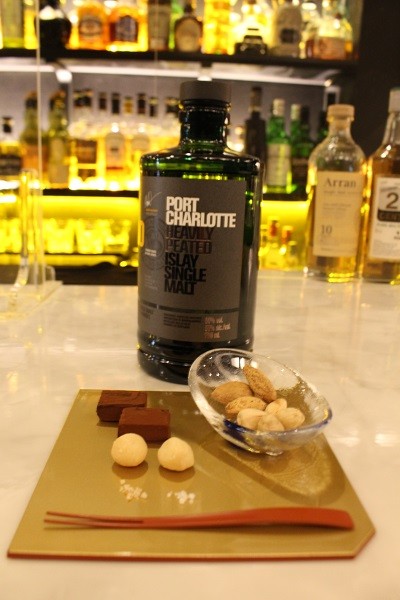 While Bar.suzuki doesn't serve food, it does offer some stylish traditional confectionery such as ohagi, made from red azuki beans, and konpeito sugar candies from Kyoto. Ms. Suzuki also pairs this Port Charlotte 10-year whiskey from the Bruichladdich distillery on Islay with some Royce whiskey liqueur chocolate and nuts. Customers may also order out and have food delivered.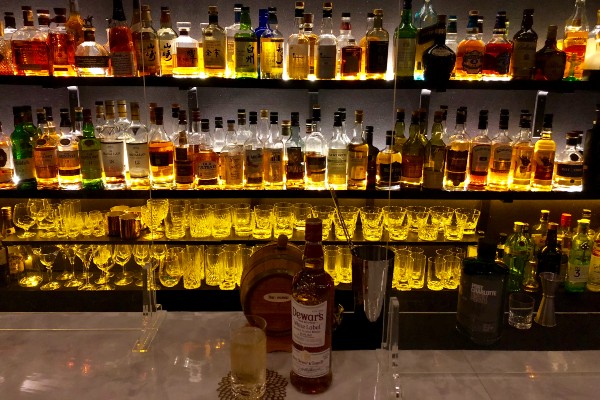 Patrons can select their own favourite glasses to match the whiskey. Many are Baccarat or other well-known brands.
As Ms. Suzuki explains, most customers tend to be older business people, both men and women, who enjoy chatting and drinking. There are singles and couples too. It's a very comfortable ambience and Ms. Suzuki is the most charming host. If you're in the mood for a whiskey in a relaxed bar for adults, Bar.suzuki is just the place!
Story and photographs by Stephen Spencer