Superior Yakitori at Yumemidori
Published: September 7, 2021
Sumibikushiyaki Yumemidori is a brand-new yakitori restaurant in the Fukagawa area of Koto-ku. Yakitori, skewers of chicken and vegetables seasoned and grilled over charcoal, is often described as "Japanese soul food" and we'd certainly agree that its savoury goodness, in tandem with an ice cold beverage or two, is a match made in heaven. The manager was a most welcoming host.
"We opened on June 22nd 2021, probably not the most auspicious day as the State of Emergency was announced shortly after," said the manager. "I don't think we were working normally for more than three weeks before we had to alter our schedule! Yumemidori is part of the Yumekazoku (Dream Family) group of restaurants, run by my brother and I. Our aim at Yumemidori is simply to offer top quality yakitori and drinks at reasonable prices in a relaxed and comfortable environment. Yakitori shouldn't be expensive food, so we'd like to keep the bill under 4,000 yen per person if possible."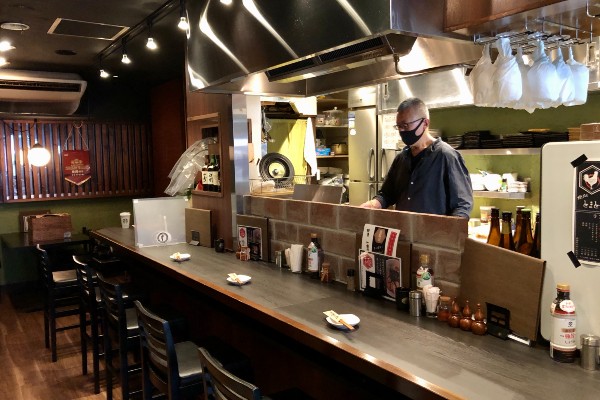 The interior is decorated in earth tones and the lighting is subdued. The counter seats half a dozen, with two four-top tables under the front window and another at the back, giving a spacious feel. Jazz tinkles from the speakers, creating a very pleasant, cool ambience in marked contrast to the blazing heat outside.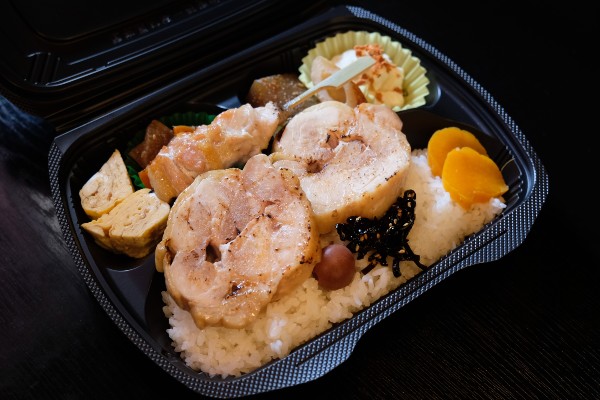 With opening hours currently restricted, the owner is focusing on a straightforward lunch menu and these wonderful lunch boxes. For just 700 yen, customers can enjoy two rounds of shoulder (furisode in Japanese, the shoulder area between the wing and the breast), a skewer of chicken breast, egg roll, simmered vegetables (nimono), and salad (on this day it was potato salad). Pickled dried daikon radish (takuan), the sea vegetable hijiki and a pickled Japanese apricot (umeboshi) add an extra touch of taste and colour. The lunch box is both delicious and healthy, while the chicken rounds were strongly flavoured and extremely tasty.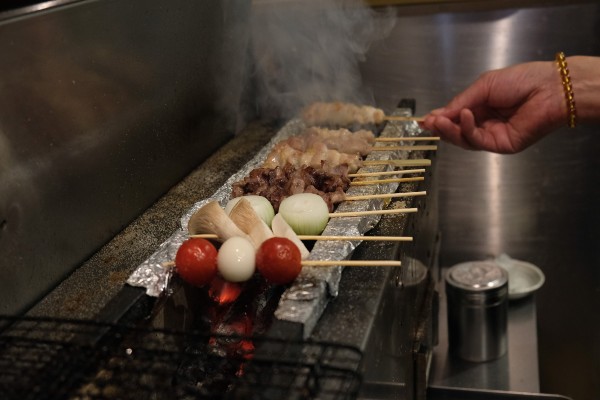 "We use only Daisen-dori brand chicken from Tottori Prefecture," explained the manager as he fired up the grill. "I make around 10 to 15 of the take-out lunch boxes a day, and they're very popular with staff from local offices, so usually they sell out fairly quickly. The yakitori menu has around 20 varieties of chicken meat skewers, with another ten types of vegetables, although this changes seasonally."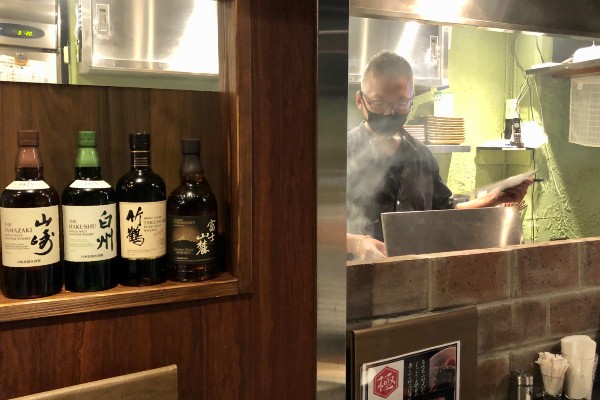 As he explained, while customers could order items singly from the menu, the Yumemidori course (2,800 yen including tax) was the preferred choice of many. "Courses are rare at yakitori restaurants, so that appeals to customers. The course begins with some chicken sashimi, usually accompanied by a drink, and is followed by pickles, salad, the main yakitori plate and finishes with a soup made using chicken broth. Rice (250 yen), rice porridge with chicken broth (ochazuke, 450 yen) and fried rice (550 yen) can be ordered separately."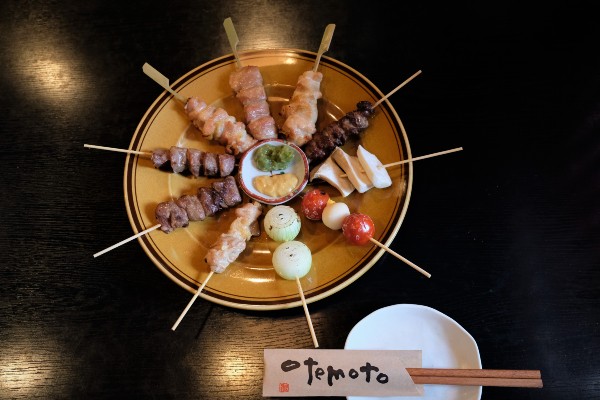 The yakitori plate features seven different skewers, four meat and three vegetables, including some rare cuts of chicken that are not available on the individual item menu. Moving clockwise there are tomatoes with mozzarella, small onions, diaphragm (harami in Japanese), heart (hatsu), gizzard (sunagimo), central thigh (obi), chicken oysters (sori), shoulder (furisode), giblets (sunagi), and eringi mushrooms. The menu usually contains fatty liver (shiro reba), when available, "It's like foie gras," he explained.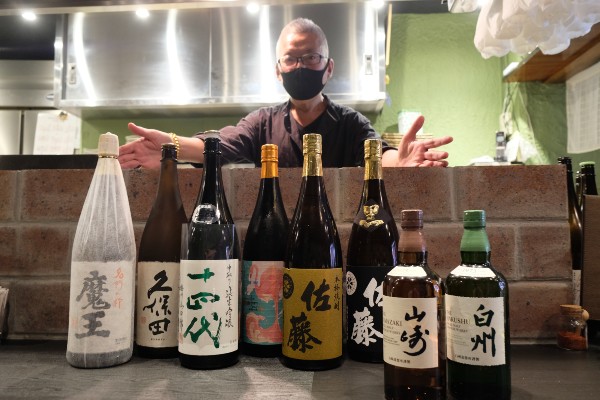 Unfortunately the current State of Emergency precludes the serving of alcoholic beverages, which is a real shame as Yumemidori has a fine selection of drinks. Pride of place goes to the Juyondai from Takagi Brewery in Yamagata Prefecture (third from left), an extremely rare and difficult to obtain sake of the highest quality, a must-drink for nihonshu lovers. The brown labelled bottle on the right is a rare barley-based shochu (distilled spirit) from the Satoh Distillery in Kyushu, while the black label is sweet-potato based shochu, also from Satoh. Whiskey drinkers will recognize Suntory's Yamazaki and Hakushu on the right. Nice!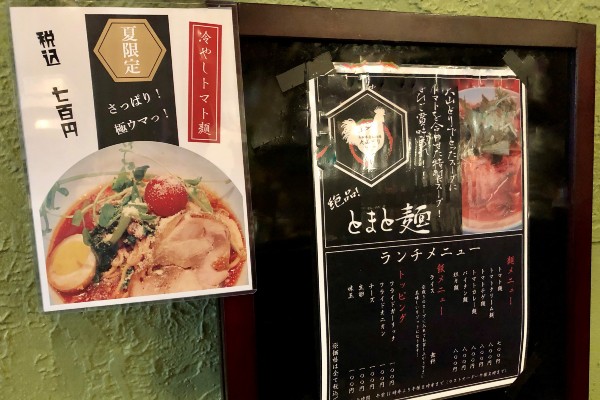 The eat-in lunch menu at Yumemidori currently comprises two items: a yakitori bowl of charcoal-grilled chicken thigh meat and vegetables on rice, served with soup and salad for 800 yen, including tax. The second is a series of interesting chilled noodle dishes with a tomato soup base, "like a soup pasta dish," as the owner explained. "It's light and refreshing, ideal for hot and humid summer lunchtimes." The summer-only dishes feature chicken shoulder rounds, hard-boiled egg, fresh tomato, green leaf garnish and cheese, and are very popular with female customers.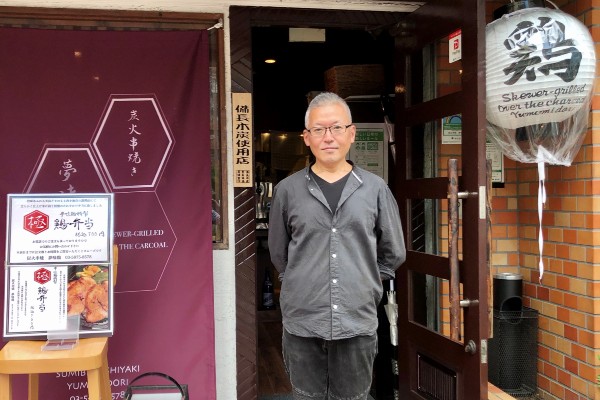 The manager has had a long and varied career in the restaurant business, working as a chef in a kappo restaurant (where chefs prepare dishes in front of customers seated at a counter), at a Chinese restaurant and more besides. He seems a very laid-back character and the comfortable atmosphere at Yumemidori is a reflection of that. If you're in the Fukagawa area and fancy some top quality, reasonably priced yakitori for lunch, then head for Yumemidori. It's like a dream come true for charcoal-grilled chicken lovers!
Story and Photos by Stephen Spencer