Sushi and Parasols
Published: November 6, 2020
If you leave the Yurikamome line's Shijomae Station, the gateway to the Toyosu Fish Wholesale Market, from the south side exit you will see, set back from the wide pavement, a low building with a grassy area dotted with tables benches and large "wagasa" (Japanese-style parasols). Welcome to Edomae Joka-machi.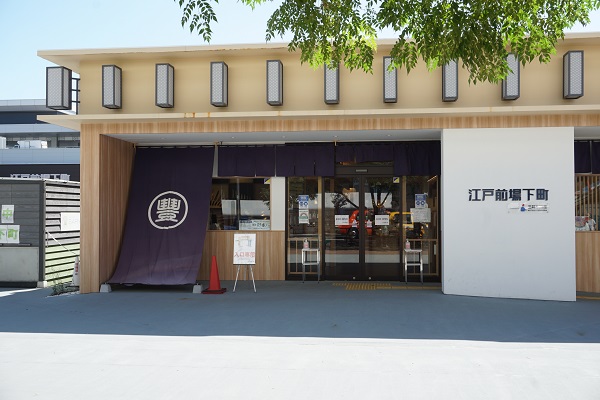 This building houses a number of small restaurants and shops. One of these, Tsukiji Kagura Sushi Toyosu Jogai-ten, located in one corner of the building, boasts a menu of popular sushi dishes which can be eaten in or ordered as "mochi kaeri" (take away).
The manager of Tsukiji Kagura Sushi Toyosu Jogai-ten is Mr. Hiroshi Kashiwabuchi, a friendly and cheerful sushi chef, with 28 years' experience in the sushi restaurant business behind him. Sitting my colleague and I down at one of the eatery's small tables, he told us that Tsukiji Kagura Sushi Toyosu Jogai-ten opened on 1st January 2020 at the same time as the Edomae Joka-machi building, with their target customers being visitors on their way to and from the fish market as well as local Toyosu residents.
The sushi bar can accommodate 6 to 7 diners at its three small tables, along with a further 3 at the counter, and its business hours are from 9:00 a.m. to 6:00 p.m. (last orders 5:30 p.m.).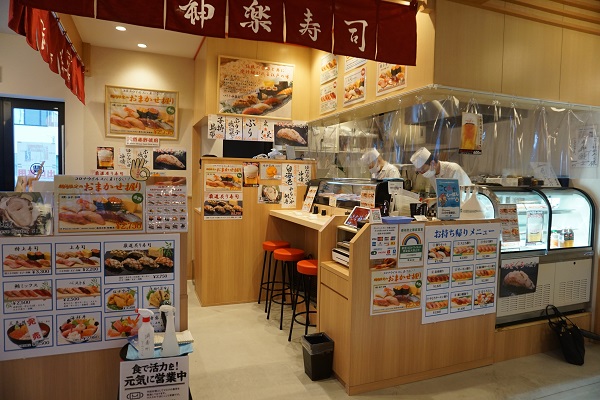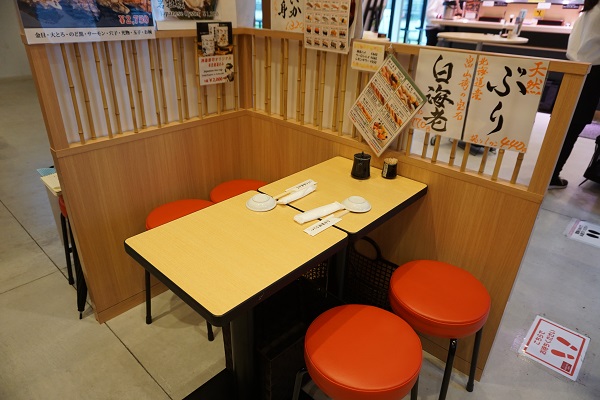 As the restaurant area is quite small, the "mochi kaeri" service comes in handy, boosting business at the same time as allowing visitors to take their sushi lunch out into the garden area. An added attraction is when you order a take away meal the consumption tax, at 8%, is less than if you eat in the restaurant (10%).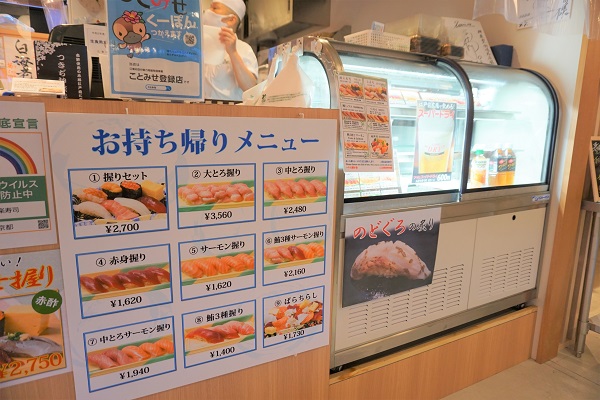 The menus and posters plastered across the sushi bar's walls attest to an extensive range of sushi, both individual items and set meals.
One of the restaurant's most popular dishes is the seasonal "omakase" ("leave it to the chef") plate set. This consists of 8 pieces of sushi, a piece of tamagoyaki (sweet egg omelette) and a bowl of miso (soy) soup with seaweed (very tasty and supposedly good for the hair), and costs 2,750 yen (including tax). The types of fish served up as nigiri sushi (fish placed on a bed of hand-moulded rice) vary according to the season.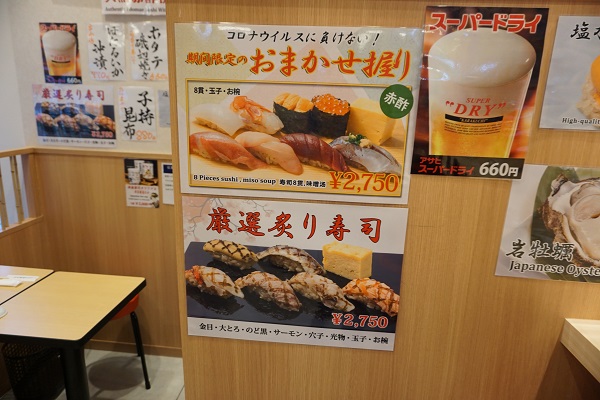 As well as the traditional Edomae sushi dishes, Mr. Kashiwabuchi said that one of the establishment's selling points is its akazu rice, which is coloured and flavoured with a traditional form of red vinegar called akazu. This is made from slowly fermented kasu (lees), a by-product of the sake-making process, and is rich in protein, vitamins, and amino acids.
Pointing to a picture of the restaurant's aburi (seared) sushi set, Mr. Kashiwabuchi said that this is proving very popular in recent times as diner's tastes change. A set with 6 pieces of sushi, seared on their surface, and served with a piece of tamagoyaki costs 2,750 yen (including tax) and is in great demand. I have eaten aburi before and this is certainly a dish that I would come back to try.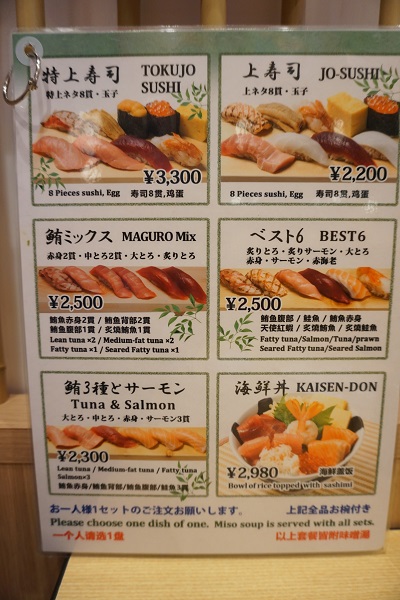 Mr. Kashiwabuchi asked us to wait whilst he and his colleague rustled up something for us to try. Whilst they were doing this, I asked Mr. Kashiwabuchi how long it takes to become a fully-trained sushi chef. He explained that a trainee chef generally works behind the scenes for the first 3 years or so, before they are allowed to perform the basic functions of a sushi chef in front of customers. And it takes up to 10 years before they can be considered a fully-fledged chef, who customers can trust to prepare the sushi perfectly, whilst chatting confidently with them. That is a long time spent perfecting your technique!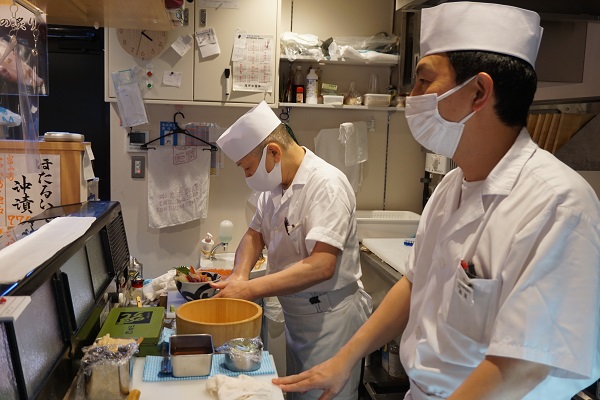 When it was ready, what Mr. Kashiwabuchi brought us was a Tsukiji Kagura Sushi Toyosu Jogai-ten speciality: a Kaisen-don (2,980 yen including tax). This is a large bowl containing tamagoyaki, akaebi (red shrimp), 2 pieces of chutoro (medium fatty tuna), 2 pieces of akami (red meat tuna), 2 pieces of sake (salmon), kani (crab), ikura (salmon roe) on a bed of akazu rice, topped with shiso (beefsteak plant), wasabi (the green and devilishly hot Japanese horse radish) and gari (sweet pickled ginger). This came with a bowl of tasty miso soup mixed with seaweed.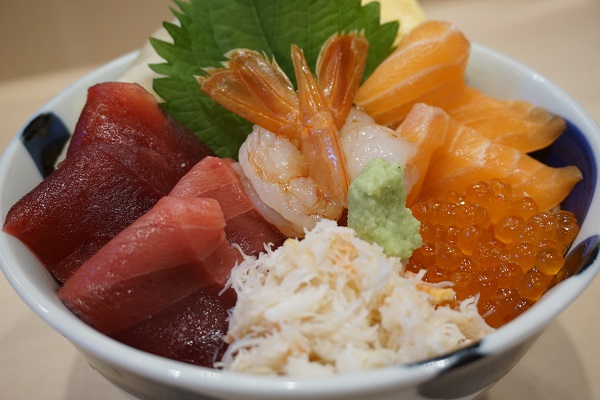 After pausing to admire the colourful display of the bowl's contents, we dived in. The sushi was tender and smooth, and the akazu rice had a pleasant taste, different from usual sushi rice. The whole result tasted extremely good and proved to be a very filling meal.
Walking back to Toyosu, I was thinking, the next time I come to Tsukiji Kagura Sushi Toyosu Jogai-ten I shall buy one of their take away meals and stroll outside and sit under one of the Edomae Joka-machi parasols and enjoy it as I watch the world go by.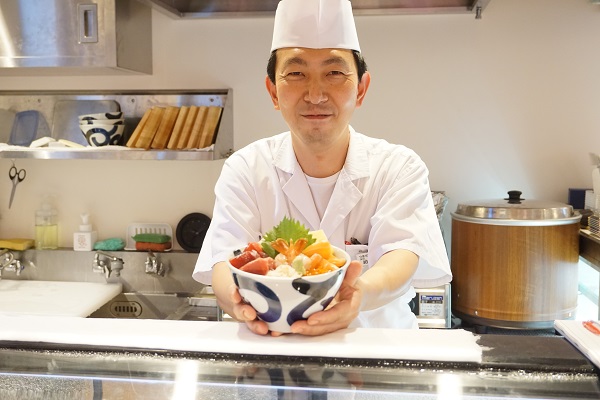 Story and photographs by Jeremy Hutchinson