Tasty and Stylish Kameido Cafe
Published: January 26, 2023
When we heard that Cafe Fleur in Kameido had recently undergone a refurbishment, we knew we had to go and check it out. On a recent sunny winter's afternoon, we popped in to hear the news from proprietor Ms. Momoko Nagai and her charming mother.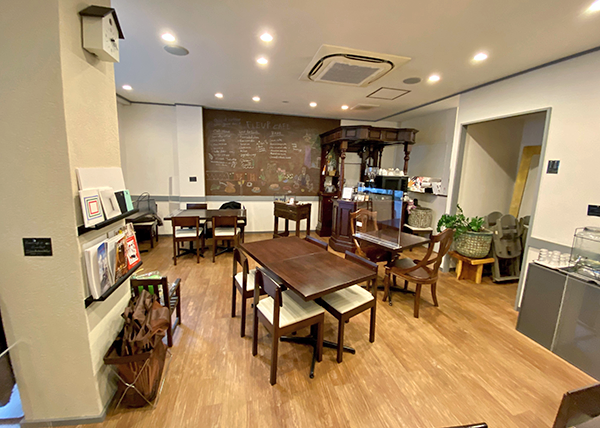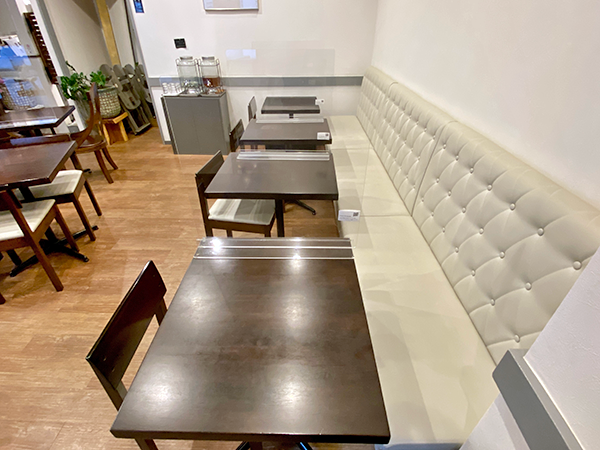 As Ms. Nagai explained, "We originally opened here in 2014, then decided to redecorate the place last year. We made some changes, including our coffee supplier and added some new items to the menu, while retaining those that were popular before." The cafe is stylish, spacious, and airy, with plenty of room between tables for strollers to enter, while the cream banquette seating wouldn't be out of place in a Ginza establishment!
Most popular item "Fleur Salad Plate"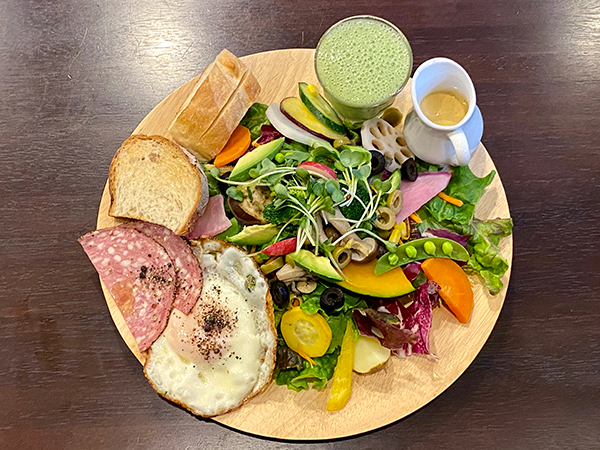 The most popular item on the Cafe Fleur menu is the Fleur Salad Plate (1,300 yen on weekdays), which comes with a smoothie and dessert. We'd heard it was a hearty serving but were astonished at the size of the platter and the 22 or 23 seasonal vegetables it contained. Even Ms. Nagai wasn't sure how many ingredients went into it! The salad plate is available for 1,000 yen as a single order item on weekends, minus the smoothie and dessert.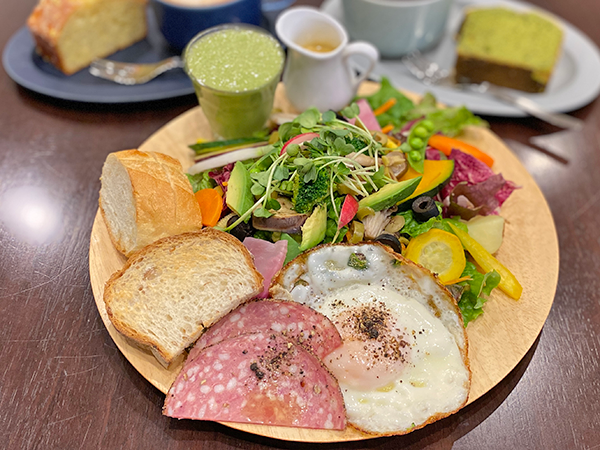 "The bread was specially selected by my mother after a prolonged search for varieties that suited salad, that wouldn't overpower the taste of the fresh vegetables," she explained. There's a baguette slice and rye bread too, both of which were excellent. "Everything on the menu is handmade, we prepare the vegetables every morning and make our own salad dressing fresh every day too. Smoothies are mixed when an order is placed as well." Such was the demand that the smoothies can now be ordered to take out (680 yen), while the original, secret recipe salad dressing is available for sale twice a month, on the 10th and 25th. Please check the website for details!
Specialty hand drip coffee served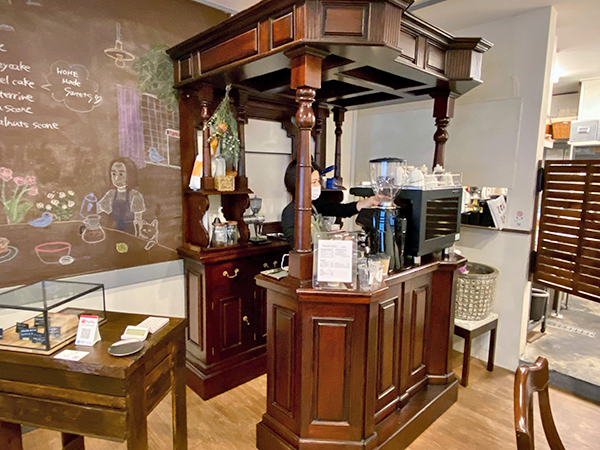 Pride of place goes to this massive coffee stand, a holdover from the previous interior decoration, behind which Ms. Nagai works her magic.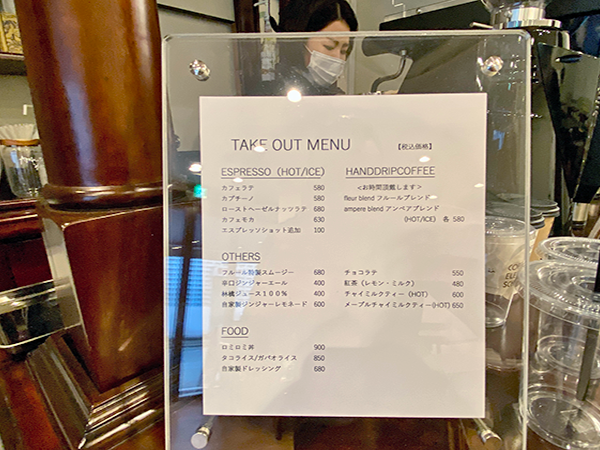 The cake and coffee menu has been revitalised too. Cafe Fleur now serves specialty hand drip coffee such as Coffee Wrights Ampere blend and a unique original created by the renowned specialty coffee roaster Cafe Facon in Nakameguro, Meguro-ku. Cafe Fleur is the only place it's available, in the entire world! This is the take out menu for drinks and food.
And cake with drinks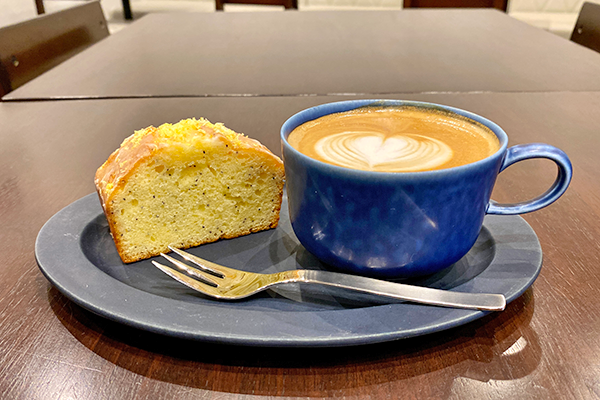 Ms. Nagai has spent many years working to perfect her cakes. The lemon and poppy pound cake (450 yen) pictured here with a creamy latte contains the juice and peel of one and a half lemons, which lends it a real tangy citrus punch. Very nice, particularly with a slightly tart coffee such as Kenya, Ethiopia or Colombia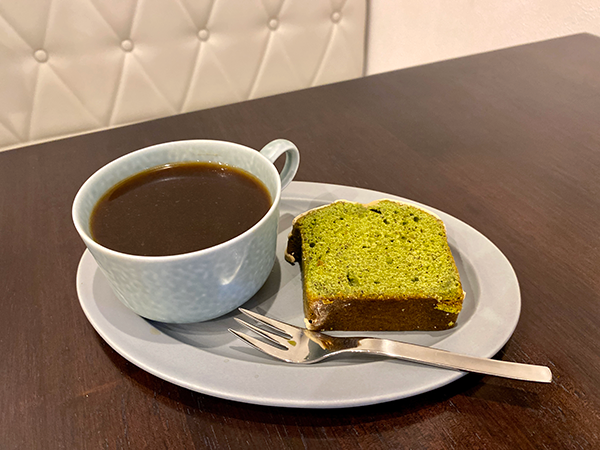 The recipe for this matcha Earl Gray (450 yen) is a Cafe Fleur original that neatly combines two popular flavours into a winner! Having thoroughly enjoyed these cakes we'd be very keen to try the burnt Basque cheesecake (650 yen) or the honey banana cake (380 yen) next time.
good coffee good day!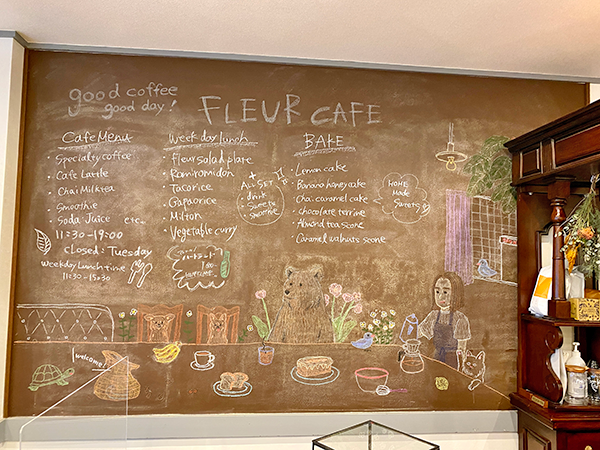 While Ms. Nagai showed her multifarious talents by designing most of the logos and illustrations at Cafe Fleur, the wall menu was created by a professional artist friend. Aside from the famous salad plate there's a Hawaiian lomi lomi salad on rice, taco rice, gapao rice, seasonal vegetable curry and milton, a French dish of stewed beef and tomatoes with cornichons and vinegar.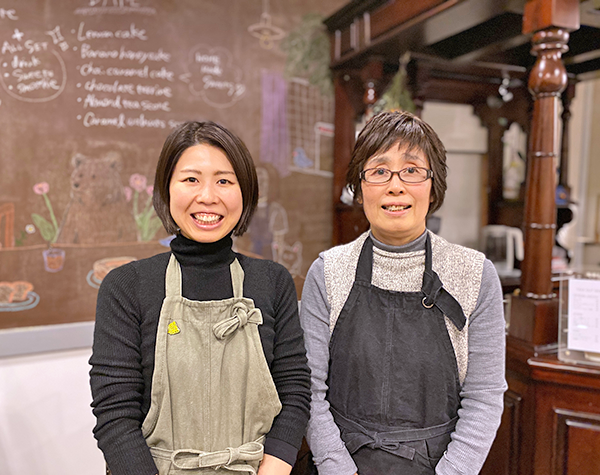 Ms. Nagai got her break in the cafe business as a student when she took a part-time job in a well-known national chain. "I really enjoyed it and after graduating I applied to join as a full-time member of staff, working there for nine years, until I realised my dream of opening my own place with Cafe Fleur," she explained.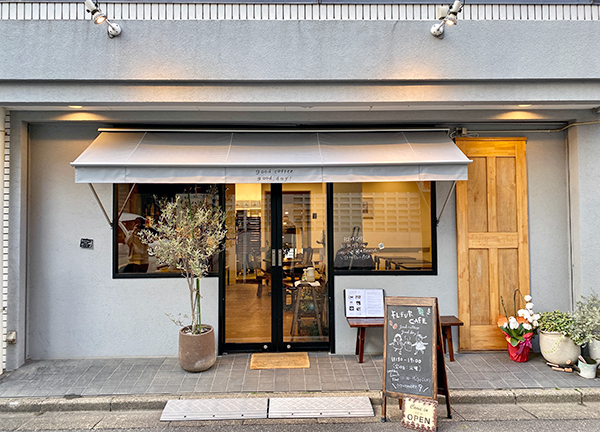 Located south of Kameido station, Cafe Fleur is just a stone's throw from Kameido Clock and the thundering traffic of Keiyo Road, yet has the pleasant backstreet feel of a hidden gem. If you're in the area and in need of healthy lunch, cake and coffee just drop right in!
by Stephen Spencer