The Eternal Search for a Good Cup of Coffee
Published: January 5, 2018
Mr. Yoshiyuki Sato is something of a philosopher when it comes to the subject of making a cup of coffee. Originally from Hokkaido, the proprietor of NorthWave Coffee opened his coffee shop in June 2015 after a previous existence as a salaryman. Being a lifelong coffee drinker, he decided that he would like to be involved in the preparation and serving of drip coffee and espresso coffee, and chose the shop's location not far from Morishita Station because he liked the sense of community in the Noraku-Road Shopping Street area.
As you duck your head under the striking noren (the shop curtain hanging over the entrance), which combines The NorthWave Coffee name with a map of Hokkaido, and enter the shop, an aroma of coffee wafts around you. Looking up, what strikes you then is that the shop is very long and narrow (11 metres from the front door to the back wall), with a high ceiling.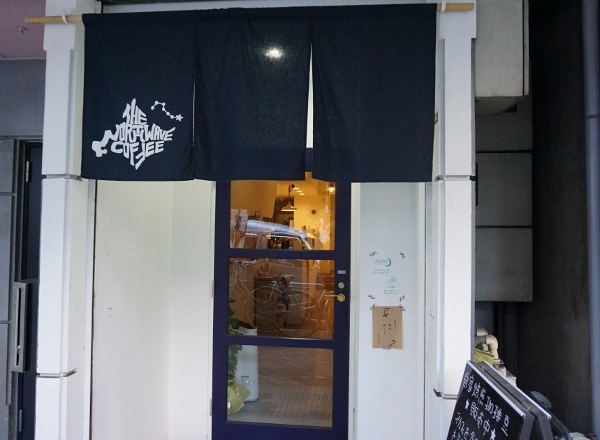 The décor is simple: white walls with no decoration. There are no chairs or tables; instead, customers, both those drinking coffee and those just waiting for their roasted beans to be ground, sit on the light-coloured wooden bench which runs the length of one wall facing Mr. Sato working behind the counter.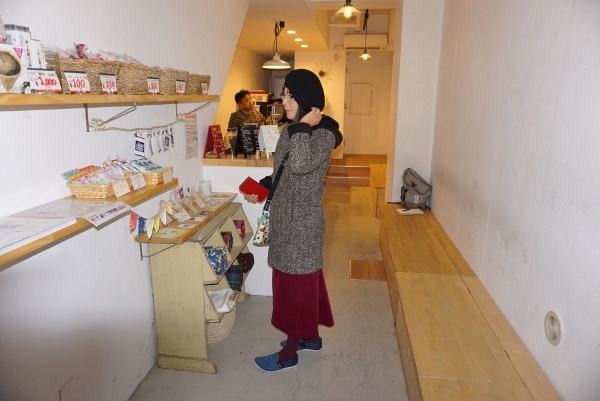 There are 10 types of coffee beans on sale from Central and South America, Africa and Asia. The fixed, regular beans on sale come from Guatemala, Ethiopia, Indonesia and Brazil, along with an original blended roast called Tsuki-yo. In addition, Mr. Sato rotates the other beans on sale to offer stock from different countries. On the day I visited, the other beans came from Colombia, Costa Rica, Indonesia, Papua New Guinea and Rwanda. Mr. Sato's favourite coffee is from Nicaragua.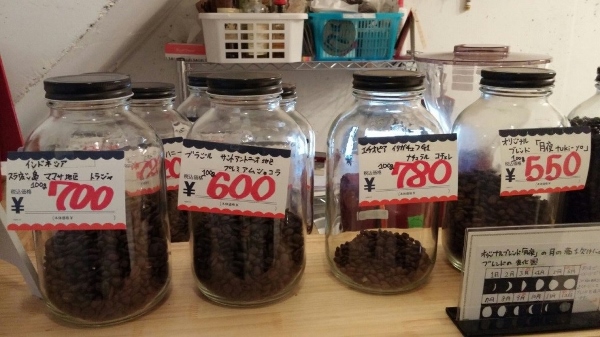 Whilst we were chatting, one of the regular customers dropped in for his Irish coffee, and we both watched as Mr. Sato carefully measured out the sugar and then the whiskey. The roasted coffee beans were measured and poured into a filter, then came the slow and steady pouring of boiled water, which dripped through into a metal jug. The whiskey and sugar were mixed together, flambéed and poured into a glass, to be followed with care by the coffee. The cream which was then added drifted slowly from the surface of the glass down into the body of the coffee. My newfound acquaintance and I watched and chatted for a while as he savoured his drink and then departed.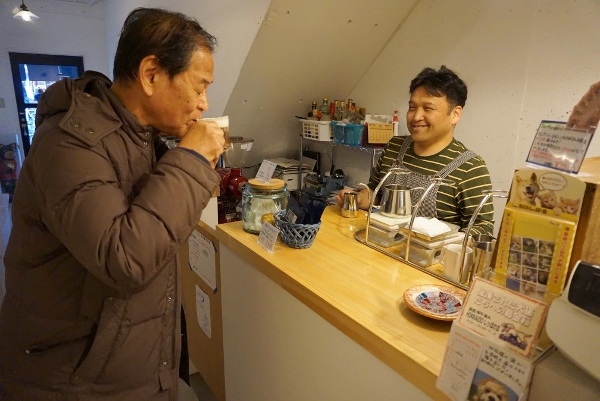 Shortly afterwards, another customer came in looking for an acidic type of bean to grind at home. After going through the list with Mr. Sato, she chose a Costa Rica bean recommended by him.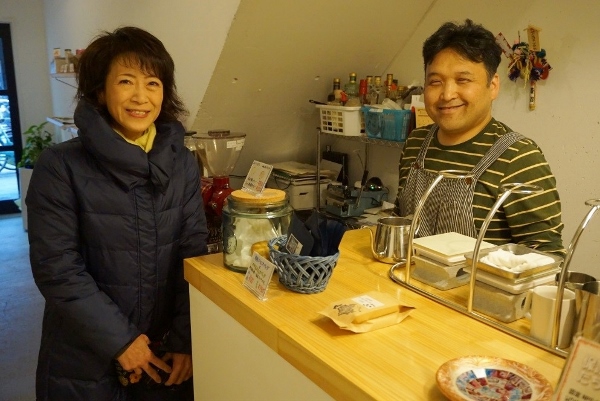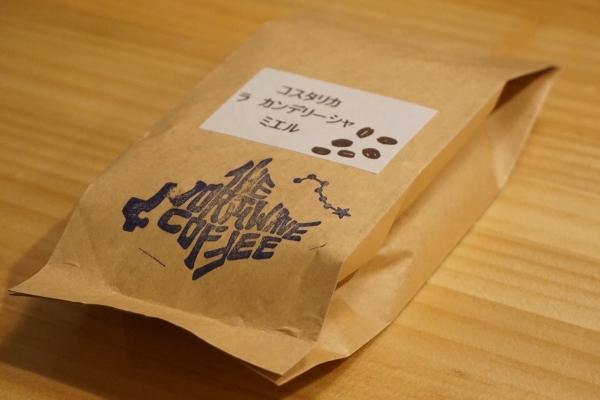 Apart from cookies, the coffee shop does not sell food. As Mr. Sato says, "This is a place for coffee lovers to drink coffee and chat." Having said that, he is not dogmatic in his views as to how people should drink their coffee. Unlike some "experts", he has no objections to his customers asking for sugar or milk in their coffee, nor does he consider that there is a "correct way" to make a good cup of coffee.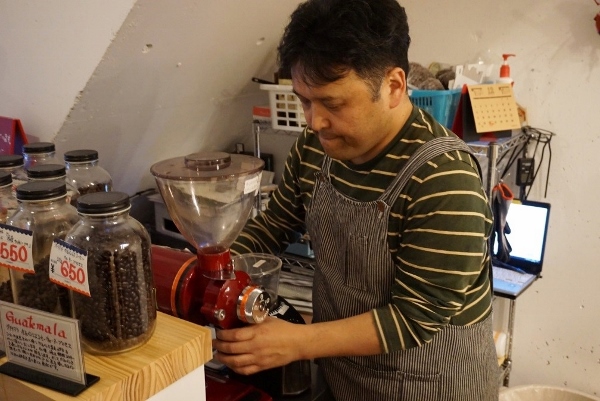 When I asked him what makes a good cup of coffee, he advised that this depends on the person, and that if you ask 100 people that question you will get 100 different answers. To him this is an eternal theme, which he is constantly considering. According to him, coffee-making is a science; what is poured into the coffee cup is the result of a combination of elements, such as heat, water, air pressure, the degree of roasting the ground coffee and the level of coffee oil, and these elements are constantly changing.
If you should happen to drop in to The NorthWave Coffee, and you decide to buy a bag of roasted coffee as a gift for a friend, you can always ask for it to be placed in one of a selection of gift envelopes which Mr. Sato keeps behind the counter. It adds a personal touch to the gift.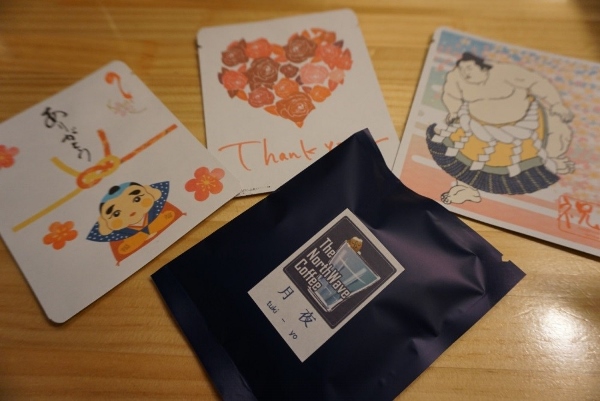 So come sit and watch a master in action; what Mr. Sato jokingly calls his "Showtime". Observe as he painstakingly leans over the counter and pours the hot water in circles slowly around the filter, and listen as the coffee slowly drips into the mug waiting below. Then take your mug of coffee, sit back and enjoy its taste and aroma. This is what The NorthWave Coffee is all about.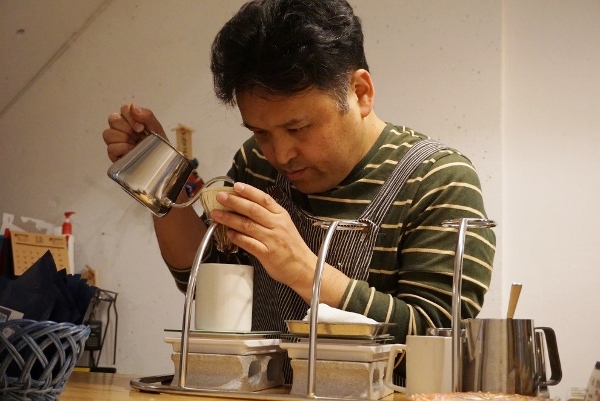 Story and Photos by Jeremy Hutchinson