True Thai Delights with Wine!
Published: May 18, 2022
The Japanese love for Thai food continues unabated, as we discovered on a recent visit to Mae Ping, an oasis of the Kingdom's cooking in Monzen-nakacho. Mae Ping just celebrated its second anniversary in March 2022, and is now poised to spread its fame beyond local in-the-know customers. Our guides were owner Mr. Kazuaki Aoyagi, his charming wife Nom-san and ace chef Pikhao.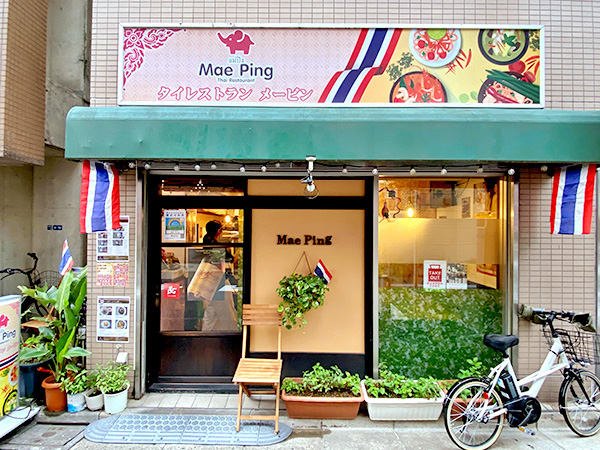 Mae Ping is located three minutes' walk from exit 3 of Monzen-nakacho station, just off Eitai Street. It's festooned with tricolour flags so it's easy to find!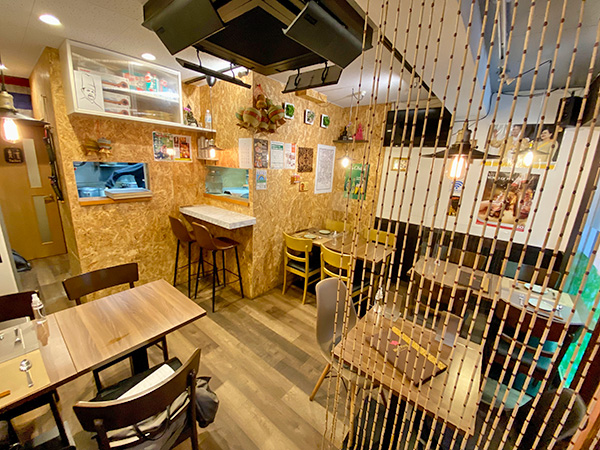 "We opened as planned in March 2020, right at the beginning of the pandemic," explained the ebullient and easy-going Mr. Aoyagi with a rueful grin. "We'd wanted to launch our own restaurant for a while and jumped at the chance when this space became available. Our concept of Mae Ping is a relaxed and comfortable place serving top quality Thai cuisine that can be paired with paired wine." The interior is neat and tidy with a warm and comfortable ambience.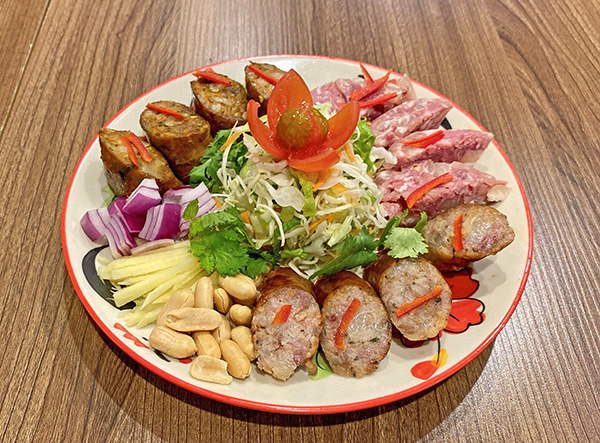 "We're committed to everything being homemade here at Mae Ping," said Mr. Aoyagi, "The sauces, the tom yam kung base and even the sausages. We're very fussy about that." This splendid platter is the sausage moriawase (1,100 yen) which features sai oua, sai krok isan and naem, the sour fermented sausage. Thai sausages are little known overseas, so for those with a craving for these chubby delights, Mae Ping is the place to go. All are homemade, too. "Our meat is all sourced from Tajima, while herbs like coriander, holy basil, and sweet basil come direct from farms in Chiba. Other sauces and seasonings are imported from Thailand," explained Mr. Aoyagi.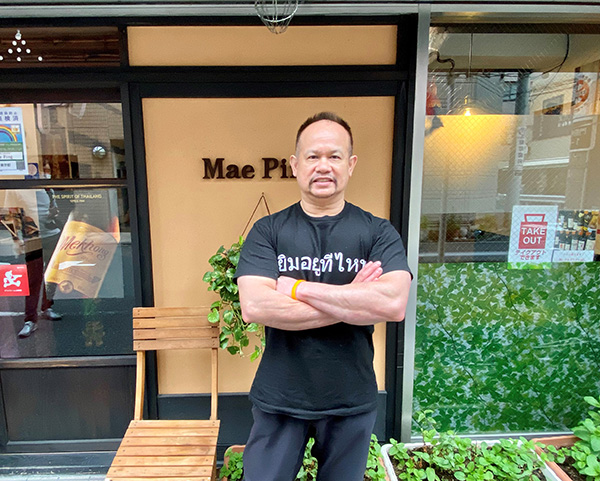 All are made by the fair hands of chef Pikhao, a native of Ayutthaya. Hailing from a long line of chefs, he was previously employed by a very well-known Thai restaurant in Shibuya ward. His son is a chef too!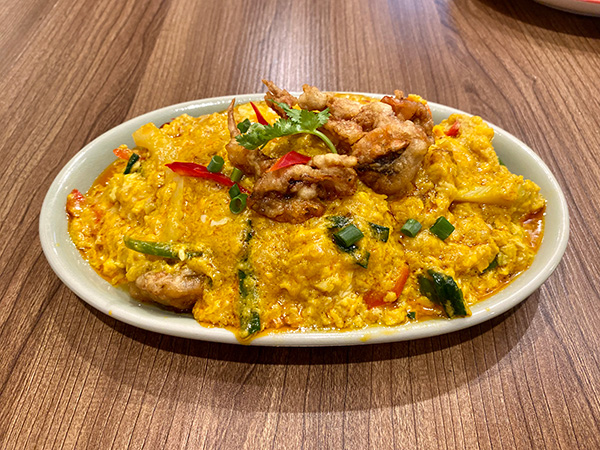 Another popular item on the menu at Mae Ping is this classic crab curry, pu pad pong, which features crab meat, eggs and vegetables in a mild yellow curry. Soft, fluffy, and creamy, this is a real winner at 1,430 yen.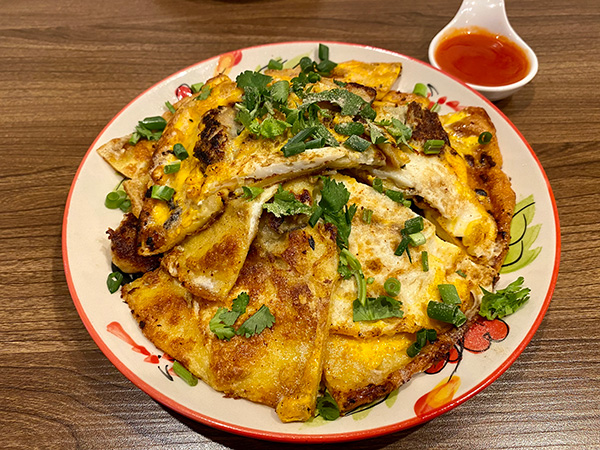 The oyster omelette/pancake (hoy tod) is another wildly popular Thai street food dish that visitors to the country will doubtless have enjoyed. At Mae Ping the portions are large and cooked to perfection by Pikhao. At just 1,045 yen including tax this is a must order!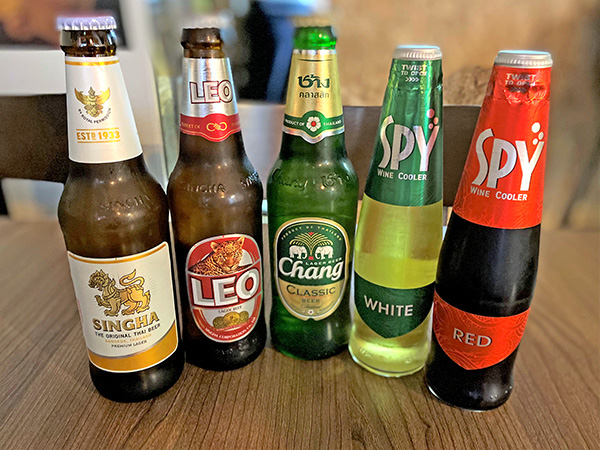 Thai beer and wine coolers match the food like no other, and Mae Ping offers a fine selection.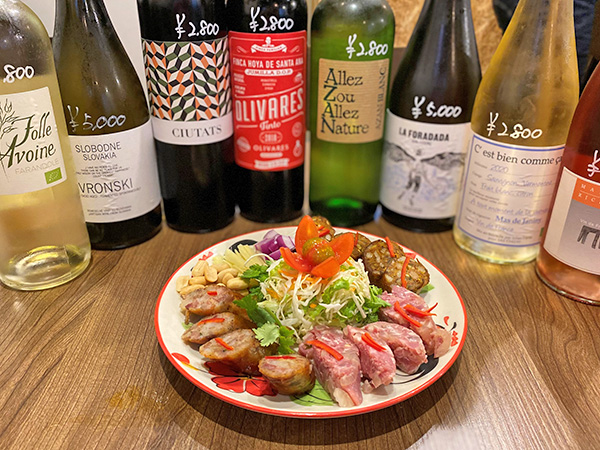 The wine selection was a real eye-opener and thrilled my oenophile colleague with its variety. "I'm not a sommelier," said Mr. Aoyagi (he's actually an architect, holder of a first-class licence and works from his nearby office), "but our wine importer is and they choose wine they think we might like to serve. We make the final selection, matching it to our menu."  Thai wine from Monsoon Valley is well represented of course, while my colleague's interest was piqued by the little-known Slovakian Vronski sauvignon blanc. There's no wine list as such; customers can choose from around 15 to 20 varieties, with prices, grapes and styles clearly marked. Glasses of wine are 550 yen, with a decanter at 1,375 yen.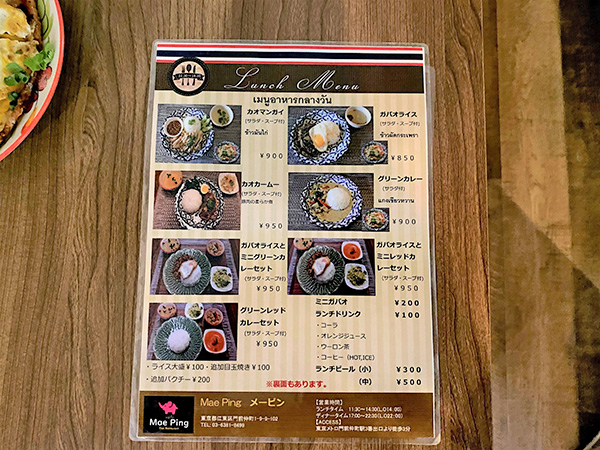 The lunch menu features such favourites as khao man gai, gapao rice, green and red curries, all served with rice, soup and small vegetable dishes for 950 yen or under. Lunch time is 11:30 to 14:30 with last orders at 14:00. Nice!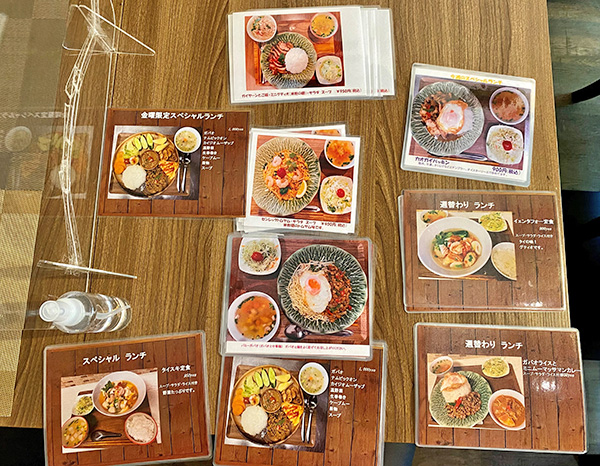 There are also various lunch specials and a Friday-only lunch.  "If you can't find what you want on the menu, our chef will make it if we have the ingredients," said Mr. Aoyagi. You can't say fairer than that!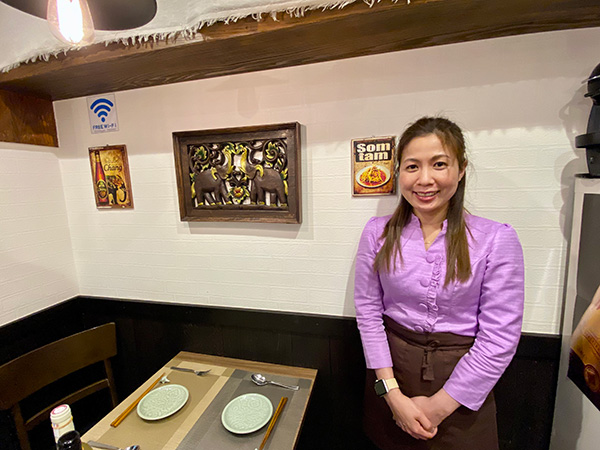 Mae Ping menu currently features around 60 dishes from all over Thailand. After a break of a couple of years due to the pandemic, Nom-san and her spouse will be able to visit her hometown of Chiang Rai in the north of Thailand later this year. "We're going to visit some famous restaurants, check the menus and see what north Thai dishes we can develop," he explained. It looks like chef Pikhao will be even busier than usual this year!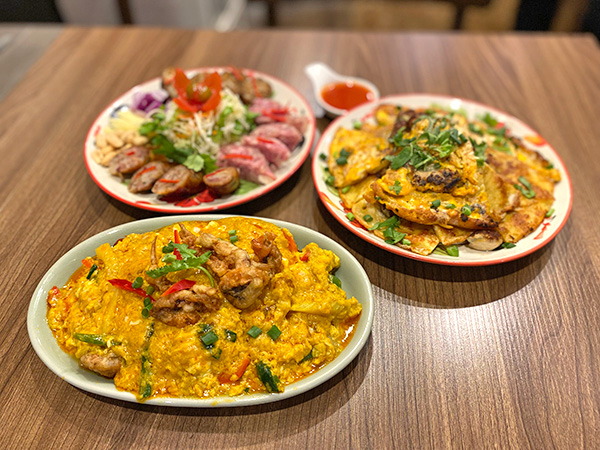 Whatever your needs, from a quick lunch to a full blown banquet, you'll find it at Mae Ping. The entire restaurant is available for a party rental too. Cheers!
Story and photos by Stephen Spencer