Stylish Yakitori Bar in Kiba
Published: December 24, 2021
Tamashii Torikazu is a stylish yakitori restaurant and wine bar near Kiba station. Now part of the Kiba and Toyocho-based yakiniku and horumon group Gekiuma Horumon Damashii, Tamashii Torikazu was founded 40 years ago, becoming over time an extremely popular and well-regarded local charcoal-grilled chicken restaurant. The responsibility of maintaining the high standards that made Tamashii Torikazu a success has fallen on the capable shoulders of manager Mr. Kuniyuki Hirabayashi and his excellent staff, who we met on a recent autumn afternoon.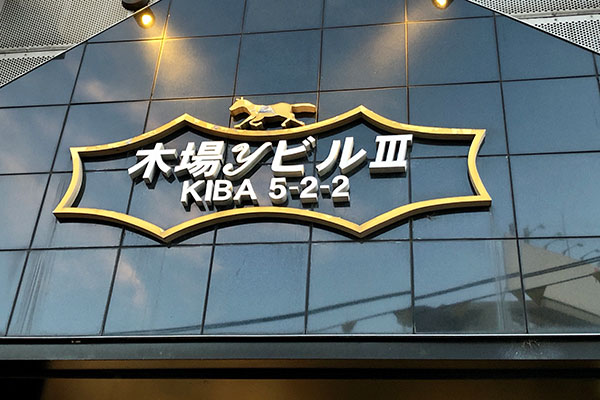 Although Tamashii Torikazu is located just one minute's walk from exit 4b of Kiba station, facing the bustling Eitai Street, it has the feel of a hidden place as it's on the seventh floor, accessed via an elevator through this somewhat unprepossessing entranceway.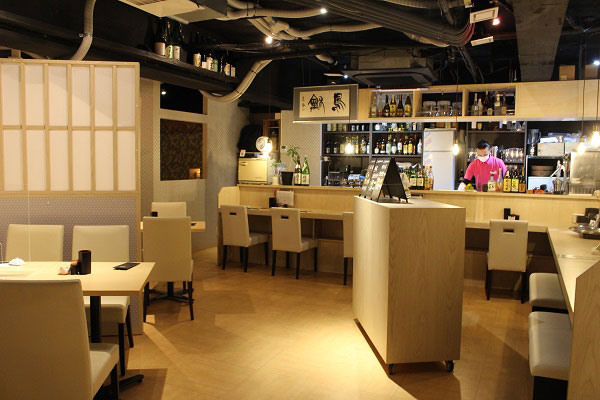 We were very pleasantly surprised when the elevator doors opened directly into a high-ceilinged space decked out in blonde wood, with an open kitchen, bar counter and semi-private booths. The interior design and atmosphere was that of a smart yet comfortable, stylish modern bar.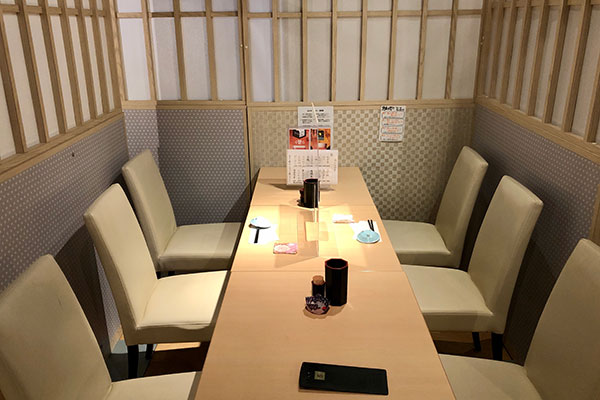 As the dapper manager Mr. Hirabayashi explained, "Our customer base is very wide, from groups to business entertainment, couples on dates, women's groups, local residents on the way home, and all sorts really. We're open till 11:00 pm so many people drop in as a second place just for a final drink or two." The semi-private booths seat half a dozen in comfort.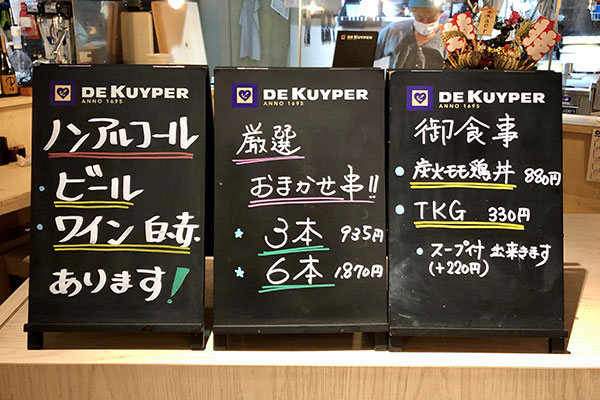 The drink menu is way more extensive than the usual yakitori restaurant and features a host of good quality wines, red, white and sparkling, together with craft beer, sake, shochu, Japanese whiskeys, and all the spirits one would expect to find at a modern bar. There's also a selection of craft beer too. It came as no surprise to learn that the place had previously been a wine bar.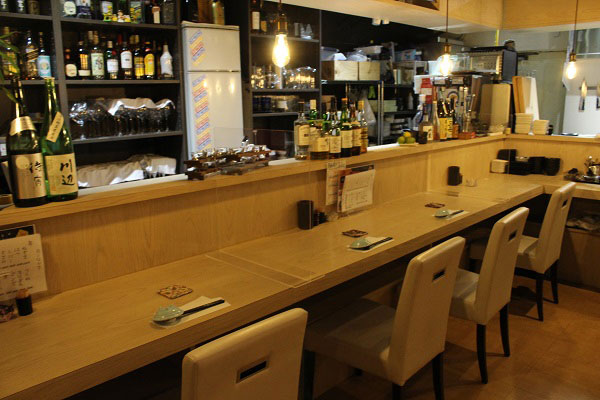 Solo customers or couples can take their ease at the counter while yakitori specialist Mr. Akiyama works his magic behind the plexiglass partitions.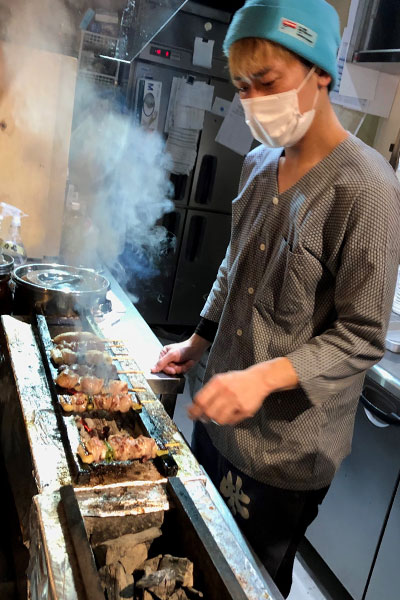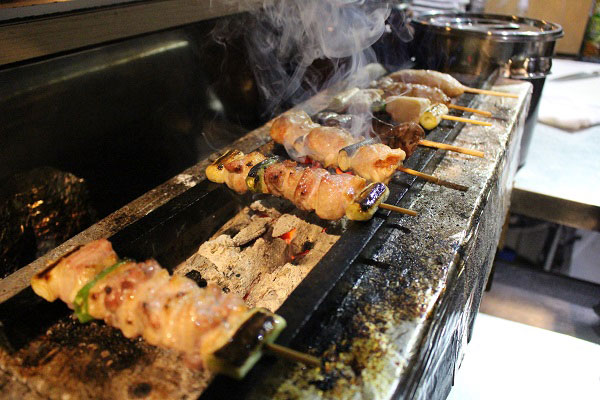 The reputation of Torikazu's yakitori originates from a combination of several requirements: the highest quality of binchotan charcoal, exceptional chicken with the excess fat trimmed off, fresh vegetables and the experience of the chef. Each skewer is prepared with the greatest care. As Mr. Hirabayashi said, "We want our yakitori to burst with flavour and have a firm texture in the mouth, so each piece on the skewer is cut larger than usual." The charcoal is from Kishu in Wakayama Prefecture, made from Japanese ubame oak and is generally considered to be the best in the country. High temperature cooking and far-infrared rays brown the surface while cooking the interior to a plump and juicy perfection.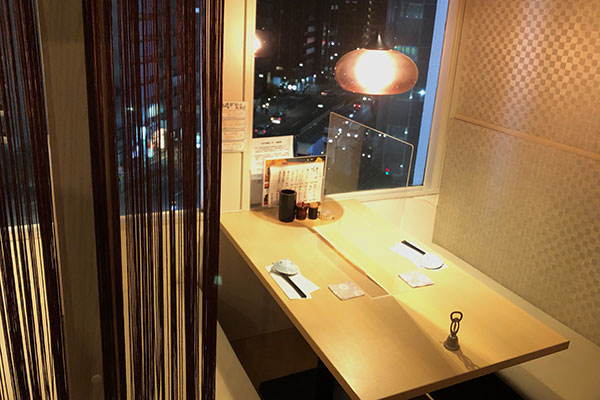 The night view from the semi-private booths makes them popular with couples.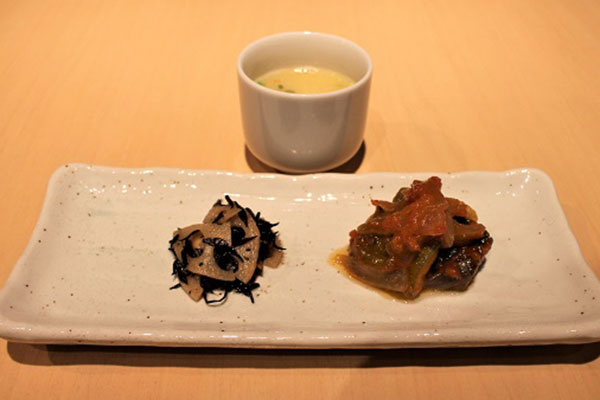 Tamashii Torikazu is justifiably proud of its chicken paitan soup, a rich yet refreshing milky white concoction based on a broth created by the lengthy stewing of chicken and pork bones. The soup also serves as the base of a ramen that is very popular with late evening diners.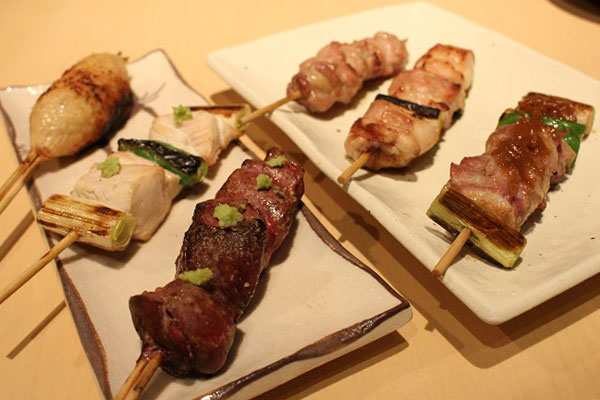 While customers can order a la carte from the yakitori menu, the Chef's Selection (omakase) sets of six skewers for 1,870 yen are the most popular choices. From the top left are: minced chicken (tsukune) with a touch of yuzu, the tangy, aromatic citrus fruit, soft and juicy inner chicken breast (sasami) with wasabi, and a liver so soft and creamy it was almost foie gras. On the right from the top are: chicken neck (seseri) with negi onion, chicken thigh with negi onion and a truly wonderful duck and negi onion slathered with a homemade sweet miso paste.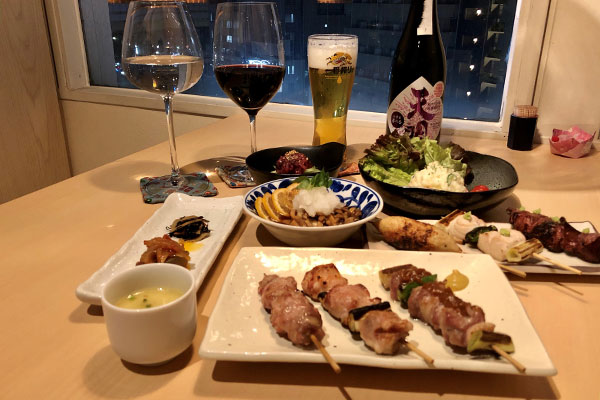 The yakitori was exceptionally good: each skewer was individually seasoned and cooked to perfection, crisp on the outside but still juicy in the centre. As Mr. Hirabayashi had promised, the skewers were far larger than usual, making the set of six a highly satisfying selection. Other dishes were equally as tasty and carefully prepared: the potato salad (550 yen) was rich and creamy with butter while the pickled apricot and jellyfish (ume kurage 660 yen) was a sharp, crunchy treat.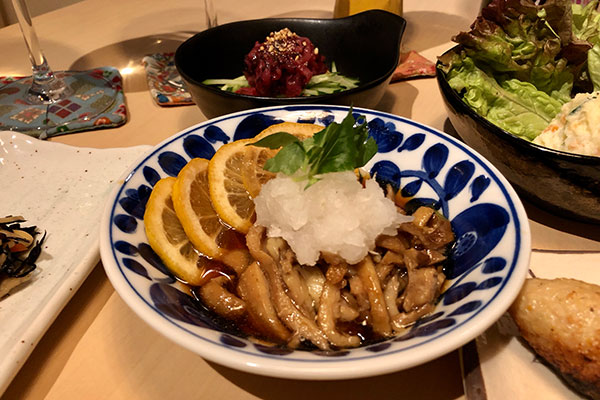 We were particularly taken by the chicken skin in ponzu sauce, served with sliced pickled lemon. The soft yet chewy and savoury grilled chicken skin, the refreshingly fruity ponzu sauce and the crunchy sharp lemon was a fabulous combination of flavours and textures.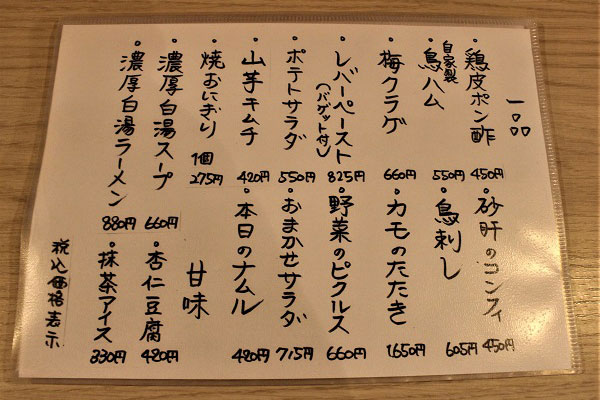 Mr. Hirabayashi's training as a French chef shows in the menu with such dishes as liver paste and gizzard confit. For those who crave vegetables there's also yam kimchi and a variety of Korean-style namul dishes.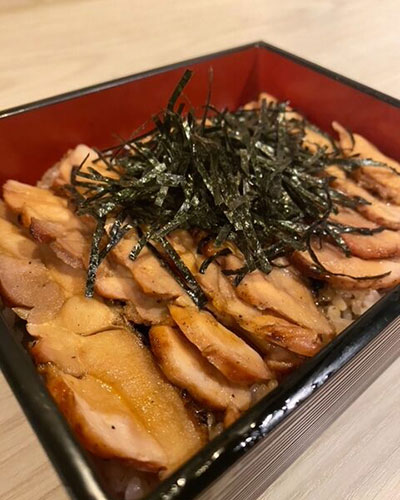 Tamashii Torikazu is also open for lunch. The signature lunch item is this chargrilled chicken on rice (toriju 1,000 yen). Fresh Japanese chicken is marinated in the famous Torikazu tare sauce and grilled to perfection, then served over rice with a topping of shredded seaweed paper.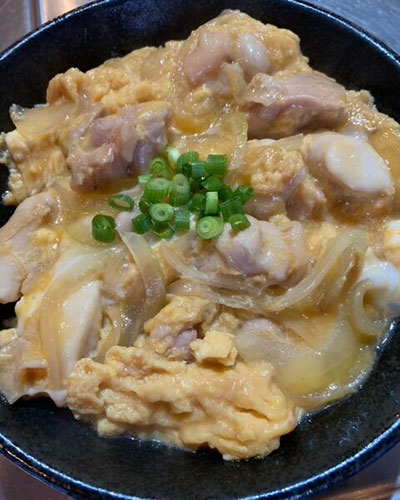 This chicken, egg and onion (oyakodon) on rice is also a lunchtime hit at 1,000 yen.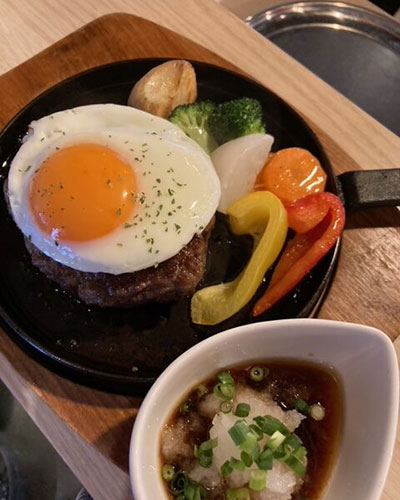 For those who'd prefer red meat, this Tamashii hamburg set at 1,100. Bursting with beefy goodness the hamburg is cooked on an iron skillet in a demi glace sauce with vegetables, and comes with grated daikon radish in ponzu sauce. The lunches are served with small side dishes and an extra large serving of rice is available at no extra cost.
Whether for lunch, dinner or a late drink, Tamashii Torikazu is a real hidden gem; great food, cool atmosphere and a fine view!
Story and Some photos by Stephen Spencer